Golden Triangle Tour Activities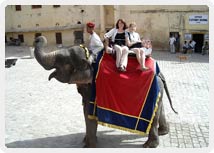 Eleven kilometers from Jaipur is the historic Amber Fort that springs from the hills .The Amber fort is standing example of Mughal and Rajput architectural style of architecture and bears testimony to the prowess of the mighty Kachawaha dynasty. An elephant ride takes you form Jaipur to the Amber Fort. One elephant can accommodate 3-4 travelers. Enjoy the elephant ride and make sure you are carrying caps to beat the harsh Rajasthan summers.
Early Morning Boat Ride at Ganges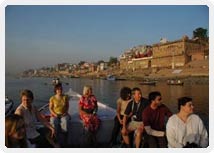 The early morning boat ride on the Ganges begins with a greeting by the sun in all its glory .Lighted candles floating on delicate banana leaves on the river and devotees taking the holy dip in the Ganga are a common sight. The boat ride takes you past the various ghats of Varanasi, offering a glimpse of the city at its religious best, with the men getting ready for their daily prayer, the sages lost in prayer and ritual. It begins from the Dashashwamedh Ghat and takes you through several others, such as the Manikarnik Ghat that is the cremation zone of Varanasi, where the dead are burnt. The Munshi Ghat is home to the city's Muslim population.In short, the boat ride is the best part of the Varanasi trip and best represents India at its traditional best, with the ride offering a glimpse of tradition and spirituality coming together against the backdrop of the golden sun.
River Rafting & Canoeing in Rishikesh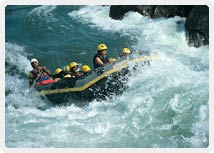 Tourists would agree that this is undoubtedly the best part about the Rishikesh trip. The Indian sub-continent is home to the largest network of rivers in the world. The northern rivers that converge in Rishikesh course through with force that make rafting an exciting adventure. River guides, self-bailing rafts define the rafting experience. These rivers hit boulders with an amazing speed, create whirlpools, cascades and deluge , almost celebrating their release from the mountains. Realize your wildest adventure dreams with the thrilling white-water rafting experience!!. Adventure enthusiasts-this is the defining moment of the Rishikesh trip!!
September-November and March-April-May are most appropriate for rafting. River camps on the Ganges operate from the end of September to mid-December, and from mid-February until late April. Advance bookings are preferred for rafting expeditions, especially those longer than a day.

Your rafting kit should include light clothes for rafting, suntan lotion, torches and other personal requirements. Sneakers, warm clothes for the camp, light clothes for rafting (preferably T-shirt and shorts", swimsuit, suntan lotion, torch and other personal requisites.Jungle walks., camp fires and tents offer more reason to make the trip!!! Canoeing-
If you care for a taste of canoeing to complete the adventure exercise, a caneo trip in a light-weight metal canoe is what you should look for.