India Travel Tips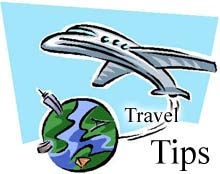 A.
The 5-star and 4-star hotels are of international standards and the comforts and cuisine they provide compare with any in the world. The deluxe and palace hotels are a world apart and many have been accorded 'Leading hotels of the world' status. The 3-star hotels are there for the medium budget traveler, and 1-star and 2-star hotels, Travelers lodges, Tourist Bungalows, Holiday Homes, Youth hostels are for those with small budgets.
B.
Your travel arrangements should be made well in advance, especially if you are traveling between October- March (high tourist season) and May- June, the Indian holiday season. Travel facilities are limited in relation to demand so prior bookings are a must.
English is spoken widely, while approved tour guides in several languages like French and German are available.
C.
Indians are hospitable and friendly people, if they stare at you, do not consider it rude, it is only a matter of curiosity.
D.
Drinking bottled water is a safer option. Indian food is essentially spicy so be careful with your choice.
E.
Do not forget to remove your footwear when visiting a place of worship or mausoleum. Also some temples do not permit any leather articles at all on their premises. Certain temples are not open to Non-Hindus.
F.
Public displays of affection are uncommon in India.
G.
India is a shopper's paradise. Textiles, jewellery and curios are what you should look for.
H.
Amateur photography of national monuments, there are no restrictions on taking photographs. Photography is prohibited in places of military importance, i.e. airports, bridges, sensitive border regions.
I.
The units of Indian currency are the Rupee and Paisa (100Paisa equal 1 Rupee). There are no restrictions on the amount of foreign currency or travelers' checks a tourist may import, provided a Declaration form is completed on arrival. This will facilitate the exchange of imported currency as well as the export of unspent currency on departure. Forex conversions are done using money lender assistance.
J.
A valid passport and visa are the necessary travel documents .Make sure you're carrying attested photocopies of your travel documents and keep the originals in a safely locked baggage.
K.
Intra-city transport facilities are a good option for those wanting to explore the destination. Tourist cabs may also be hired.
L.
It is best to visit Indian plains during cooler months from November to March.
M.
Insect repellent creams , caps and sunscreen come in handy.
N.
Bargaining is the norm in local bazaars.
O.
Be wary of roadside peddlers trying to sell you semi-precious and precious gems and jewelery. Visit state emporia and the Central Cottage Industries Emporia for fixed prices and a fair idea of the cost with a regular dealer.
P.
Trading in ivory, fur, animal skins, antiquities and the like is illegal. If you must have it, obtain a certificate of legitimate sale and permission for export before leaving the country.
Q.
One is expected to cover the head before entering a religious place such as a temple or mosque.
R.
Beggary is common in India, especially on the streets, at traffic signals, near multiplexes, etc.