Wildlife Travel India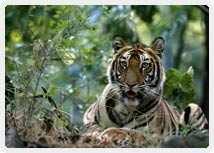 Think Wildlife and the India map presents to you Ranthambore.

The well-known Ranthambore National Park is the sacred preserve of the tiger, an endangered species in India and the focus of intense conservation efforts by leading environmentalists.
There are Royal Bengal Tigers among the host of fauna that inhabit the reserve. Khajuraho's Panna National Park is the natural habitat of the tiger, with other rare species such as the Leopard, Wolf, Gharial, Herds of Bluebull, Chinkara and Sambar.
The highpoint of the wildlife plan is Corbett, a principle sanctuary for the White Tiger that is a rare species. The Corbett experience transports you to a world of sloth bears, spotted deer, and a mind-boggling variety of resident and migratory birds , to creepy-crawlies and other members of the animal kingdom that you heard of probably in your biology textbooks!