Palace on Wheels
Tour duration: 7 Nights / 8 Days
Places Covered: New Delhi - Jaipur - Sawai Madhopur - Chittaurgarh - Udaipur - Jaisalmer - Jodhpur - Bharatpur - Agra – Delhi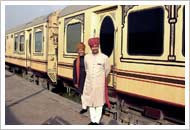 TOUR HIGHLIGHTS
Forts & Palaces, Culture, Wildlife, Indian Cuisine, Boat Ride at Lake Pichola, Udaipur, Camel Safari at Sand Dunes, Bird Watching.
Palace on Wheels is a royal experience, a journey that is much more than a luxury train ride. Palace on Wheels epitomizes the rich Indian heritage and journeys through one of the most exotic regions in the world - Dazzling Delhi, Amazing Agra, and specially Royal Rajasthan. Pamper yourself with royalty unlimited. Where else can you relax in comfort and witness exotic India passing by.
Though times have changed and the winds have shifted, the Palace on Wheels cruises along in royal style, the kind only the Maharajas of yesteryears could have perpetuated and enjoyed.
The exquisite and exclusive Palace On Wheels has luxurious cabins, wall to wall carpeting, a well stocked bar, two dining cars and a very personalized service... in fact, almost everything that could compromise of heaven on earth for seven days!
Welcome aboard the royal journey called Palace on Wheels.
Day 1: Wednesday-New Delhi
(Tour starts 0930 Hrs)
Join the tour group for a day tour of New Delhi. Tour includes visits to the India Gate, Lotus Temple, Qutub Minar, Humayun's Tomb and more. After lunch at a city restaurant, you will be transferred to the Safdarjung Railway Station, New Delhi where the guests are accorded a warm, traditional welcome before the Palace on Wheels pulls out into the night for a week-long luxury cruise through fascinating Rajasthan.
The Train starts at 1600 hrs.
Overnight On-board (B, L, D)
Day 2: Thursday-Delhi – Jaipur
(Arr. 0200 Hrs / Dep. 1930 Hrs)
Arrive Jaipur in the morning. To explore the city, an air-conditioned coach takes you to Hawa Mahal or the Palace off Winds, which is a remarkable five storeyed building along the main street of the old city is pink splendour with semi-octagonal and delicate honey combed sandstone windows. This is followed by a visit to Amber Fort, 8 km away, where rides on caparisoned elephants add to the ambience.
After lunch at a Palace Hotel, you are off to the City Palace, home of the erstwhile royal family. Right across the road from the City Palace is the Jantar Mantar, the largest observatory built by the Sawai Jai Singh II. The Luxury coaches will take you back to Palace on Wheels around 6.30 pm. Dinner on Board.
Overnight On-board (B, L, D)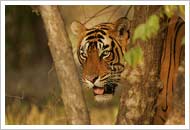 Day 3: Friday-Jaipur – Sawai Madhopur – Chittorgarh
(Arr. 0530 Hrs / Dep. 1600 Hrs)
One can almost sense a life of the wilderness, as the Palace on Wheels arrives in Sawai Madhopur, a city named after its founder Maharaja Sawai Madho Singh I. After breakfast a visit is arranged to the Ranthambhore National Park, where in are located the ruins of a 10th century fort. This wildlife sanctuary is considered to be the country's best for observing and photographing the activities of the tiger. The park, covering an area of 392 sq. km. is home to more than 300 species of birds. The tiger, hyena, ratel, jackal and fox are among those constituting the carnivorous population here. Sawai Madhopur is known for its exclusive toys, ethnic ornaments and costumes. Upon return to the Palace on Wheels, you leave for Chittaurgarh, when one gets an opportunity to watch the colourful countryside passing by in the daylight.
After lunch on board you are in Chittaurgarh. Images of love and valour; scars of battles lost and won... thrice-besieged, Chittaurgarh Fort is all this and more.
Overnight On-board (B, L, D)
Day 4: Saturday-Chittorgarh – Udaipur (Arr. 0800 Hrs / Dep. 1530 Hrs)
Arrive in Udaipur, the Lake City at 8:00 am. It was founded by Maharana Udai Singh of Mewar, after the Sisodia dynasty was driven away by the Mughals, in 1559A.D. Perhaps the two most beautiful sites of Udaipur are the dream-like marble Palaces-the Jag Niwas (Lake Palace) and the Jag Mandir, which appear to rise from the blue waters of Lake Pichhola. After lunch a visit to City Palace is exhilarating.
In the evening visit the Crystal gallery. Later proceed to Jaisalmer on board Palace on Wheels.
Overnight On-board (B, L, D)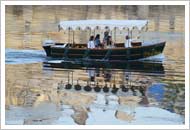 Day 5: Sunday-Udaipur - Jaisalmer
(Arr. 0915 Hrs / Dep. 2345 Hrs)
In the heart of the Thar Desert lies Jaisalmer, founded by Rawal Jaisal, in 1156A.D. Here the yellow sandstone fort is an imposing sight, towering magnificently over the city. Discover the painstakingly latticed havelis or mansions with their grand facades. The Nathmalji-ki-haveli, Pattwon-ki-haveli and Salim Singh-ki-haveli are fine examples of the stone carver's skill.
After lunch on board, go for an exciting Camel Ride on the sand dunes of Sam, before sipping a refreshing cup of tea. Enjoy the dinner and the cultural programs at a hotel in Jaisalmer. The train leaves for Jodhpur at night.
Overnight On-board (B, L, D)
Day 6: Monday-Jaisalmer – Jodhpur
(Arr. 0700 Hrs / Dep. 1600 Hrs)
Next morning the Palace on wheels is in Jodhpur, a city ringed by a high stone wall with seven gates and several bastions. This second largest city of Rajasthan, founded by Rao Jodha in 1459 A.D. is known for its rock-solid Mehrangarh Fort. The grand palaces within- Moti Mahal, Sheesh Mahal, Phool Mahal, Sileh Khana and Daulat Khana are impressive examples of architectural excellence. Near the fort complex lies Jaswant Thada, and a group of royal cenotaphs made of white marble.
After lunch at a royal Palace hotel, return to the Palace on Wheels.
Overnight On-board (B, L, D)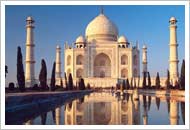 Day 7: Tuesday-Jodhpur – Bharatpur – Fatehpur Sikri – Agra
(Arr. 0500 Hrs/ Dep. 2300 Hrs)
Early next morning, the Palace arrives in Bharatpur, the capital of Maharaja Suraj Mal. After breakfast pay a visit to the world famous bird sanctuary, Keoladeo Ghana National Park, the nesting place of thousands of Egrets, Siberian Cranes, migratory Water Fowl and other species of birds.
Post breakfast, arrive at Fatehpur Sikri, the red sandstone Mughal palatial complex. Within the enclosure is a mosque built by the Mughal Emperor Akbar and dedicated to the Sheikh Salim Chisti, a muslim Sufi Saint who blessed him with a son. After lunch arrive at Agra and visit Agra Fort. Later visit the Taj Mahal, one of the seven wonders of the world. A pristine monument of undying love. It was built by Emperor Shah Jahan in memory of his beloved queen Mumtaz Mahal.
Agra is known for its splendid marble inlay work like the Pietra Dura work on the Taj, leather goods and jewellery.
Overnight On-board (B, L, D)
Day 8: Wednesday-Agra – Delhi
(Arr. 0600 Hrs)
Early in the morning, arrive at Safdarjung Railway Station, New Delhi and let the pleasant memories of the past week linger on your mind for a long, long time.