Jewels of Rajasthan Tour
Duration: 09 Nights / 10 Days
Routing : Delhi - Agra- Jaipur - Jodhpur - Udaipur - Mumbai
Tour Highlights
Delhi
Red Fort, Raj Ghat, India Gate, President House, Humayun Tomb & Qutub Minar
Optional Sound & Light Show at Red Fort & dinner at Chor Bizarre
Mathura and Vrindavan
Shri Krishna Janmabhumi Temple, Bankey Bihari Temple & ISKCON Temple
Agra
Taj Mahal, Agra Fort ,Excursion to Fatehpur Sikri, Mathura & Vrindavan,
Optional Magic Show.
Fatehpur Sikri
Akbar's Residential complex, Mosque & Tomb of Salim Chisti
Jaipur
Elephant ride to Amber Fort Palace , City Palace, Jantar Mantar (Observatory) & Hawa Mahal (Palace of Winds)
Optional Cultural evening at Chokhi Dhani
Jodhpur
Mehrangarh Fort & Jaswant Thada
Ranakpur
Jain Temple Complex
Udaipur
City Palace, Sahelion Ki Bari, Lok Kala Museum & Boat Ride at Lake Pichola Optional Sound & Light Show / Vintage Car collection
Mumbai
Gateway of India, Elephanta Caves boat cruise, Prince Wales Museum & Marine Drive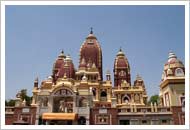 Day 01: Arrive Delhi
Arrive by International flight. After traditional 'Swagat' (Welcome) our representative will escort you at the airport and transfer you to the hotel for check in.
Delhi, a perfect amalgamation of the ancient and modern, is the capital city of India. It was chosen as the seat of power by several dynasties because of its strategic location. It is also the place where several mythological cities such as the city of Indraprastha from the Hindu epic Mahabharata once blossomed. The city is dotted with amazing monuments built by the rulers of the bygone era such as Qutub-ud-din Aibek, Alauddin Khilji, Tughlaks, Humayun and Shah Jahan.
Major portion of New Delhi was planned by Sir Edwin Lutyens in the 20th century. A huge central administrative area was set up as a testimony to the British rule in India. Delhi is divided into New Delhi and old delhi, each having its own unique charm.
Overnight Hotel - Delhi (B)
Day 02: Delhi
Full Day Tour
Enjoy a guided tour of Old Delhi, the 17th century walled city of Shah Jahanabad. Visit Jama Masjid, the principal mosque of Old Delhi, built by the Mughal Emperor Shah Jahan in 1656 AD. It is renowned as the largest and the most beautiful mosque in India. Then visit the bustling Chandini Chowk, the old marketplace of Shah Jahanabad. It still retains its old world charm as a wonderful bazaar. From here we head towards Red Fort built by Shah Jahan in 1648.
We will also visit Raj Ghat, a memorial built in honor of Father of the Nation, Mahatma Gandhi. It is a simple black marble platform which signifies the spot where he was cremated on 31 January 1948. Then we drive past India Gate, the memorial commemorating the indomitable spirit of the soldiers who scarified their lives in the World War I and the Afghan Wars. The names of the soldiers are carved on the walls here. Further we drive past the President's House, the official residence of the President of India, built in the year 1931.
Our next attractions will be Humayun's Tomb, memorial of Mughal Emperor Humayun, built in the year 1562. It is renowned as a World Heritage Site and the first example of this type of Mughal architecture in India. The towering Qutub Minar, built in the year 1206 by Qutub-ud-din Aibek. It is the tallest (72m) brick minaret in the world and a perfect example of Indo-Islamic Architecture. Qutub Minar and its monuments are listed as a UNESCO World Heritage Site.
Optional - Sound and Light Show at Red Fort with dinner at Chor Bizarre restaurant with mind-blowing interiors.
Overnight Hotel - Delhi (B)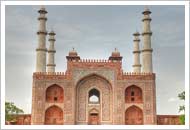 Day 03: Delhi - Agra (220 km-5 hr)
Today we drive to Agra, a historic city famed the world over for its architectural wonders. Ideally located on the banks of river Yamuna, it came into limelight as the capital of the Mughal Emperors from the year 1526 to 1628. Occupying a significant place on India tourist map, Agra is famed for breathtaking monuments such as the Taj Mahal(one of the seven wonders in the world), Agra Fort and Fatehpur Sikri. All the three monuments are UNESCO World Heritage Sites.

En route Mathura and Vrindavan
After sightseeing in Agra we drive back to Delhi, en route visit Mathura and Vrindavan, sacred places where Lord Krishna was born and spent his childhood.
In Mathura we visit Shri Krishna Janmabhumi temple housing a stone slab, which marks the birth place of Lord Krishna. In Vrindavan we visit Bankey Bihari Temple, famous for the black statue of Krishna, also known as Thakur Ji. ISKCON Temple, one of the most beautiful temples in Vrindavan. It was built in honor of Lord Krishna, his brother Balaram and Krishna's beloved Radha.
Half Day Tour
Today we visit Taj Mahal, one of the seven wonders of the world, symbolizing eternal love. Beautifully located on the banks of River Yamuna, it was built by the 5th Mughal Emperor, Shah Jahan in the year 1631 in memory of his beloved wife, Mumtaz Mahal. Its completion took 22 years. Further we visit Agra Fort, the most important fort in India where several Mughal rulers lived and governed the country. Built in red-sandstone and white marble, the fort boasts of wonderful decorations.
We will also visit Sikandara, Akbar's tomb.
Overnight Hotel - Agra (B)
Day 04: Agra - Jaipur via Fatehpur Sikri (260 km - 6 hr)
Today we drive to Jaipur, en route we will visit Fatehpur Sikri (Ghost Capital), the historical city constructed by the Mughal Empire Akbar and served as the capital of the empire from the year 1571 to 1585. We visit Emperor Akbar's Residential complex, Mosque and Tomb of Salim Chisti.
After the sightseeing we continue our drive to Jaipur, the Pink City known for its rich cultural heritage. It is the capital city of Rajasthan, which has a glorious past radiant with tales of valor and bravery. The city was established in 1728 by Maharaja Sawai Jai Singh II, the then ruler of Amber. It remains the only city in the world symbolizing the nine divisions of the universe, through nine rectangular sectors.
Overnight Hotel - Jaipur (B)
Day 05: Jaipur
Full Day Tour
Today we go on an excursion to Amber Fort (11 km), the huge fort with several beautiful structures built under the reign of Raja Man Singh. We take an Elephant ride to reach the Fort situated on the hill, a fascinating experience.

Later we visit the City Palace, a glorious showpiece of Rajasthani and Mughal architecture. The palace complex houses several beautiful palaces with mesmerizing interiors. Next we visit Jantar Mantar, a collection of astronomical instruments built in stone for measuring the planetary movements and time. Then we visit Hawa Mahal (Palace of Winds), a pink colored five-storied structure pierced with 955 windows. It was built in 1799 to enable the royal ladies to view the city life, without being visible themselves.
Optional Tour - Chokhi Dhani
Enjoy an evening excursion to Chokhi Dhani ( 15 km from Jaipur), an ethnic village resort offering a typical Rajasthani experience. It offers Rajasthani village ambiance, a variety of traditional dishes and dance and music performances for entertainment. Later drive back to the hotel.
Overnight Hotel - Jaipur (B)
Day 06: Jaipur - Jodhpur via Pushkar (317 km- 8hr)
Today we drive to Jodhpur via Pushkar. Pushkar is a holy city famous for its sacred Pushkar Lake, the Brahma temple and the colorful Pushkar fair. Containing some religious elements, it is the largest cattle fair in the world. According to the Indian calendar, the fair is held in the first lunar cycle in the month of Kartik culminating on the Kartik Poornima (Full moon), November.
In Pushkar we visit Brahma Temple, the only temple in the world dedicated to Lord Brahma, the creator of the universe. It is believed that one must take a bath in the Pushkar lake before visiting the temple. We also visit some nearby temples.

Later we continue our drive to Jodhpur , popularly known as the Blue City. Nestled on the foothills of a sandstone hill, Jodhpur seems like an oasis in the desert. Established in 1459 by Rao Jodha, Jodhpur is the second largest city in Rajasthan. The city is dominated by the arresting Mehrangarh Fort, stunning palaces, massive forts and beautiful temples. Its rich cultural heritage also reflects in its colorful handicrafts, folk dances, music and fairs and festivals.
Overnight Hotel - Jodhpur (B)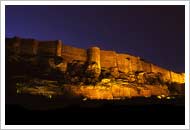 Day 07: Jodhpur
Half Day Tour
Enjoy the guided tour of Jodhpur. Visit the Mehrangarh Fort, the most enchanting attraction of Jodhpur. Perched on a 125 m high hill, the fort was built by Rao Jodha. The majestic fort encompasses stunning palaces, a museum displaying a rare collection of palanquins, howdahs (Elephant saddles), royal cradles, miniatures paintings, musical instruments, costumes and period furniture.
Next we visit Jaswant Thada, a memorial of Maharaja Jaswant Singh II built in white marble in the year 1899. It houses several royal cenotaphs of Jodhpur rulers. It is an architectural landmark of Jodhpur.
Overnight Hotel - Jodhpur (B)
Day 08: Jodhpur - Udaipur via Ranakpur (325 km - 7 hr)
Today we drive to Udaipur, a beautiful city founded in the year 1568 by Maharana Udai Singh. Popularly known as the "city of lakes and palaces", Udaipur is famed for its romantic aura, lake palace, natural beauty, gardens, temples and opulent heritage hotels. It is undoubtedly one of the most romantic cities of India.
En route Ranakpur
En route we will visit Ranakpur, which is famous for its exquisitely carved Jain Temples built in the 15th century AD. The temples are built in amazing style and design. Later we continue our drive to Udaipur.
Overnight Hotel - Udaipur (B)
Day 09: Udaipur
Full Day Tour
Today we visit the City Palace, a superb complex housing several magnificent buildings built in the year 1725. It is a perfect example of Chinese and European architectural styles. Starting from the entrance to the oldest structure in the complex, everything reflects royalty.
Sahelion ki Bari (Garden of Maids of Honor) is a beautiful garden with wonderful architecture built by Maharana Sangram Singh for his daughter and the Ladies of the Queen's court. The garden has several fountains, pools and is fashioned with beautifully carved pavilions and elephants. The working of the fountains is based on the unique hydraulic technique devised in the year 1700 AD.
Next we visit Jagdish Temple, the Indo-Aryan temple known for its finely carved sculptures. Built in the year 1651 AD by Maharana Jagat Singh, it is the largest and the most mesmerizing temple of Udaipur. We will also enjoy a boat ride on the romantic Pichola Lake. The surroundings of the lake encompass hills, palaces, temples, bathing ghats and embankments. The Jag Niwas (Lake Palace) and Jag Mandir, the two island palaces on the lake simply look overwhelming.
Overnight Hotel - Udaipur (B)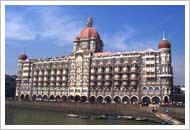 Day 10 : Udaipur - Mumbai (Flight)
Today we take a flight to Mumbai, a chain of seven islands. According to archaeological reports, these islands had been inhabited since 250 BC. In the 3rd century BC, the islands formed part of the Maurya Empire.
Today we take a City tour of Mumbai. We will visit Gateway of India, the gateway to the port of Mumbai. It was built to commemorate the visit of King George V in 1911. We also visit Prince Wales Museum located near the Gateway of India. It reflects the amalgamation of Gothic and Moorish styles of architecture. The museum houses a collection of ancient Indus Valley artifacts dating back to 2000 BC and some rare Tibetan and Nepali artifacts.
Later we take the boat cruise from Gateway of India to visit Elephanta Caves. These caves are renowned for exquisitely rock cut temples dating back to the 5th century. The Elephanta Caves was named after the statue of an elephant near the landing area of the island, by the Portuguese.
We also drive through the Marine Drive, which runs along the shore of the Arabian Sea from Nariman Point past Chowpatty Beach to the foot of Malabar Hill. Then we take an evening flight to our next destination.
Our tour concludes: Caper thanks you for your patronage and look forward to serve you in the near future.