Tribal Cultural Tour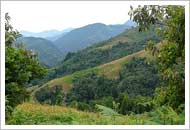 Duration : 21 Days - 20 Nights
Places Covered : Dibrugarh - Namdapha - Dibru - Pasighat - Along - Daporijo - Ziro - Itanagar - Tawang - Dirang - Nameri - Guwahati
Day 01: Dibrugarh: Arrival, Welcome ceremony, Bunglow
You arrive in Dibugarh. After a traditional 'Swagat' (Welcome) our representatives would assist you at the airport and transferred to a tea estate. After lunch, visit a tea garden and admire the lifestyle of adivasis in the tea estate. You will be accommodated in a host bunglow inside the garden. Evening enjoy the night falling with spring scent. Overnight stay at bunglow in Dibrugarh.
Day 02: Namdapha: Drive on to Namdapha National Park.
On arrival check into Camp Namdapha Resort.
Day 03: Explore Namdapha National Park
and the Tribal villages around the park. It is home to a lot of wild animals and is the one of the wildest National park of India.
Day 04: Drive to Dibru Saikhowa National Park
One of the few places where the Feral Horses are still found. Over night at Dibru Saikowa.
Day 05: Roing: Brahmaputra River crossing, Sadiya
Early morning drive to Sapakhowa ferry ghat to cross Mighty Brahmaputra and reach Sadiya, the capital of Chutiya kingdom in 13th and 14th century. After visiting some local prominent sites move on to Roing to visit the ruins of Bhismaknagar. Overnight at Govt. guesthouse.
Day 06: Pasighat: Siang and Lohit Rivers
Move to Pasighat, one of the oldest towns in Arunachal Pradesh. Enjoy the breath taking sight of confluence of rivers Siang and Lohit of Arunachal Pradesh makes a mighty Brahmaputra river. Night halt at Govt. guesthouse.
Day 07: Along: Adi Tribal Village
Next day we will move to Along(160km) Enroute visit Adi (Minyong) tribal village to see the colourful peoples, their dances and culture. On reaching Along check in for accommodation at Govt. circuit house.
Day 08: Daporijo: Adi (Galong) Tribe
Early morning drive to an Adi Galong tribal village. Enjoy your time with the colourful locals where times seems to standstill. Drive on to Daporijo(160km) for overnight stay at Govt. circuit house.
Day 09: Ziro: Apatani culture
Leave for Ziro(190km) center of Apatani culture. Throughout the path you can enjoy the practice of mean culture along with agriculture. On reaching Ziro enjoy some cultural events by Apatani Locals and dance on to their tunes. Overnight at Ziro circuit house.
Day 10: Itanagar: Capital city
Early morning drive to Itanagar(180km), capital of Arunachal Pradesh. Spend the day at leisure. Overnight at your hotel in Itanagar.
Day 11: Itanagar: Sightseeing, emporium
Spent the day exploring peoples and local Sightseeing. Overnight at Itanagar.
Day 12: Rupa: Scenic drive, Shertukpen Monpa Tribes
Early morning drive to Rupa. Enjoy the breathtaking scenic beauty of this tiny hill station. Visit a Shertukpen Tribal village. Overnight at Govt Guest house.
Day 13: Tawang: Sela Pass, Dirang Village
Early morning, we will visit the upper and the lower 'Gompa' (Buddhist Monastery) at Bomdilla. After a leisurely breakfast we depart for Tawang, the blessed land of Monpa's. You drive onto centuries old Dirang Basti a 'Dirang Monpa' tribal village, still retaining its old stone made houses and its colourful inhabitants with warmth in their hearts. Dirang town overlooking the fast flowing Dirang river, Sela pass (13703ft) Jaswant-Garh Chino-Indian war memorial. Check in at the hotel for overnight stay. In the night one can see illuminated Tawang Monastery.
Day 14: Tawang: Monasteries, Nunneries, Monpa Tribal culture
After breakfast, visit 350years old Buddhist monastery, locally known as Gompa, which seemed to be suspended from heaven in an equally ethereal space. Also visit the nunneries locally called Ani Gompa and Urgelling Monastery, 460 years old Monastery established by lama Urghen Sangpo Bhumthang, which is also the birthplace of His holiness 6th Dalai Lama. In the evening enjoy ethnic Monpa tribal dances and dances by Lamas.
Day 15: Tawang: Monastery, Zemithang, Monpa Village
Early in the morning we will drive to Zemithang to encounter the Monpa tribal peoples. Picnic lunch at Tourist lodge by the riverside. Return to Tawang for some for cultural activity.
Day 16: Dirang: Scenic drive, Gompa, Tribes, Waterfalls, Sela peak
Early morning drive to Jang to encounter the waterfalls, one of the breathtaking sights. Move onto Dirang(145km from Tawang), another heart pulling place with scenic beauty, enroute stopping at Sela Top (13000 ft). Check into hotel for overnight stay.
Day 17: Dirang: Trek, Scenic beauty
Explore the beauty of the Sangti valley and trek through the 'Dirang Monpa' Tribal village to where rare Black Necked Cranes come for wintering. Overnight at Dirang.
Day 18: Nameri: National park, Elephants, Wild life
Early in the morning drive for the Nameri National Park(209km), the last house of White winged Wood Duck along with many other rare species. Spent whole day on an elephant ride. Accommodation will be in the thatched hut in the Eco Camp; adjacent to the Nameri National Park. The Eco Camp itself offers a golden opportunity to live with the nature.
Day 19: Guwahati: Scenic Drive, Tipi Orchidarium
Drive to Guwahati(452km) enroute stopping at Tipi(215km), where lies the Orchidarium, a glass house having 7500 orchids. Overnight at your hotel in Guwahati.
Day 20: Guwahati: Kamakhya temple, Museum, River cruise
Spent the day exploring Guwahati city, gateway to North-East India. Visit Museum, Kalakshetra, Kamakhya temple where Tantricism is still practiced. In the evening set out on a River cruise to watch the sun go down the river and see yourself why the river is locally called 'Luit'- colour of blood.
Day 21: Departure: Farewell
Tour concludes. Caper thanks you for your patronage and ensures a punctual transfer to Guwahati Airport for your onward travel.