Vaishno Devi Tour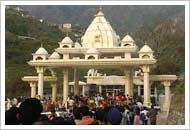 Among the various shrines dedicated to various Gods and Goddesses scattered all over the Himalayan and sub-Himalayan belt, Mata Vaishno Devi shrine near Katra in Jammu, is the most popular shrine. The holy cave shrine of Vaishno Devi is nestled in a beautiful recess of the Trikuta Mountains forming a part of the lower Himalayas. It is located 61 km north of Jammu at a height of 5200 feet above the sea level.
Tour Information
Duration:
8 Days/7 Nights
Destinations:
(New Delhi - Jammu - Katra - Vaishno Devi - Katra - Jammu - New Delhi)

Day 01: Flight to India (New Delhi)
You arrive in Delhi by international flight. After a traditional 'Swagat' (Welcome) our representative would assist you at the airport and to our hotel for check in and overnight stay.

Day 02: New Delhi - Jammu (by train)
Breakfast at the Coffee shop. Rest of the morning at leisure. You will be taken on a guided tour of Delhi, beginning with a morning sightseeing trip to Old Delhi and followed by visit to the 1648 Red Fort, India's largest mosque - Jama Masjid and Gandhi Memorial at Raj Ghat. Afternoon tour includes visit to India Gate, President's House, Humayun's Tomb, Lotus Temple and Qutab Minar. In the night after having dinner we drive to the railway station for the train to Jammu.

Day 03: Jammu
TIn the morning we will arrive at Jammu. Upon arrival, you will be met by an Caper Travels representative and transferred to the hotel. In the afternoon we will explore the city of Jammu.
Day 04: Jammu - Katra - Vaishno Devi
Today in the morning after having breakfast we will drive to Katra. Katra is the starting place for the Vaishno Devi Yatra. All pilgrims are required to get passes at Katra for the visit to Vaishno Devi temple. This temple is located about 12 km away from Katra. To visit this temple one has to hire a pony or travel by foot from Katra. Popular belief holds that anybody who walks the Himalayan trail to her abode to ask for a boon rarely goes back disappointed. We will visit this temple either by travelling on foot or hire a pony from Katra. The Vaishno Devi shrine is located in a cave towards the top of the Trikuta Mountains in Jammu-Kashmir. There are three pindies of Mahakali, Mahalakshmi and Mahasaraswati. This is believed to be the only place where these three Devi's are found in one temple as natural pindies. The yatra follows the path Vaishno Devi took when fleeing from Bhairon. Several shrines, wayside stalls for snacks and beverages and water-points dot the route. By the evening we reach Mata Vaishno Devi temple. After having a small rest we visit the temple.

Day 05: Vaishno Devi - Katra
In the morning after visiting the temple again we will return back to Katra. By the afternoon, we will reach Katra. The rest of the day at leisure (opportunity for the shopping)

Day 06: Katra - Jammu - New Delhi (by train)
In the morning from Katra we will drive back to Jammu. By the afternoon we will arrive at Jammu. In the evening we will drive to railway station for train to New Delhi.

Day 07: New Delhi
In the morning arrive in New Delhi. Upon arrival, you will be transferred to the hotel. Rooms are available to get fresh and change before we depart for the airport with Caper Travels representative.

Day 08: New Delhi
Tour concludes. Caper thanks you for your patronage and ensures a punctual transfer to the Railway Station / Airport for your onward travel.