Gwalior Travel Guide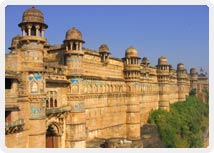 Gwalior is a historic city which was founded by the King Surajesan. Formerly, it was the famous princely state ruled several dynasties like Rajput clans of the Pratiharas, Kacchwahas and Tomars.
A multitude of reigning dynasties gifted this city with palaces, temples and monuments that preserved the age-old cultural legacy and heritage culture. History of Gwalior dates back to 8th century when local Chieftain Suraj Sen founded it. The city is named after hermit saint Gwalipa, who cured Suraj Sen from leprosy.
Some of the famous tourist attractions of Gwalior are:
Gwalior Fort
One of the most invincible forts in India which are ruled by several dynasties but rarely been captured. The fort was built by Raja Suraj Sen on the orders of Sage Gwalipa around 1000 years ago. This magnificent fort measure around 3.2 km in length and 35 meters in height. It is a classic example of medieval architecture and famous for the wonders of yesteryears.
Man Mandir Palace
This is a huge palace built by Man Singh Tomar between 1486 and 1516. It is also known as the Chitra Mandir or the Palace of Paintings renowned for its architectural glory and painted decorations.
Gujari Mahal and Archaeological Museum
This palace was built by Man Singh for his ninth Gujar wife Mrignayni. It is famous for its design, decoration and construction which enthrall tourists. This palace is now converted into museum housing a large collection of stone carvings and artifacts of yesteryears.
Teli-ka-Mandir
This is renowned 9th century temple built in Dravidian style of architecture. It is the oldest temple inside the fort dedicated to Lord Vishnu. A figure of garuda (mythical bird) resides on top of the 10-metre-high doorway.
Surya Mandir
This is Sun Temple built by G. D. Birla, the famous Indian industrialist. The architectural pattern of this temple is based on the replica of the Sun Temple at Konark in Orissa.
Suraj Kund
This is a pond constructed in the 15th century and located within the fort. It is the pond where Sage Gwalipa healed Suraj Sen of leprosy with the waters of this pond.
Memorial of Tansen
This is the memorial of great singer Tansen. He was the Father of Indian classical music and one of the nine Gems in Akbar's court. Every year a music festival in the month of November and December organized here that attracts singers and musicians from all over India.
Mausoleum of Ghaus Mohammed
This is the tomb of sheer beauty dedicated Afghan Prince turned sufi saint who had helped Babur to win the Gwalior fort. The tomb is famous for its architectural beauty of stone carvings and panels of screen work.
Saas-Bahu Temple
As its name denotes the temples is not dedicated to Sas (mother-in-law) and Bahu (daughter-in-law) rather the short form of Shashtra Bahu, another name of Lord Vishnu. The temple is famous for elaborately decoration, beautiful carvings and sculptures.
When to Visit Gwalior
The best season to visit Gwalior is between September to February.
Gwalior Shopping
Gwalior is one of the oldest bazaars in Madhya Pradesh where tourists can buy an array of things. Some of the popular items are dolls, hand-woven carpets, Gwalior style of painting, jewelry and crafts, lacquer ware and wall hangings. Among all the items Chanderi saris is the most popular item of shopping.
Gwalior Cuisine
Gwalior is popular for sweet and salted snacks. The most popular dish is Morena Gazak a crunchy, water-like sweet made of sugar, jaggery and sesame seeds is the specialty of this place.
How to Reach Gwalior
Air: Regular flights connect Gwalior with Delhi, Bhopal, Indore and Mumbai.
Rail: Gwalior is well-connected through all the major railheads of India because of its location on Delhi-Mumbai and Delhi-Chennai rail lines.
Road: National and State highway connects Gwalior with all the major cities of India.