Agra Tourism : The City of Tombs and Mausoleums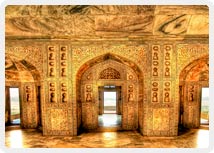 Agra the city of tombs and mausoleums is among the most visited destinations of India tour. It is located on the banks of the river Yamuna in the state of Uttar Pradesh. The historical richness and architectural marvel of this city can be experienced through its three UNESCO World Heritage Monuments - The Taj Mahal, Fatehpur Sikri and Red Fort.
The blend of magnificent forts, enthralling tombs and great mausoleums and its proximity to Delhi and Jaipur make this city an apex destination of the India's most popular golden triangle tour package.
Agra is a city steeped in history. Despite numerous foreign invasions this city still retains its unique flavor. This city is also mentioned as 'Agraban' in the Hindu scripture Mahabharata. This city is a part of Brijbhoomi the land associated with the birth and legendry activities of the lord Krishna.
Historically, Agra was the capital of all the Mughal rulers starting from Sikander Lodhi, the second ruler of the Lodhi dynasty. It was Babur, who built the first monument in Agra, a planned garden called Gul-e-Afgaan or the Aaram Bagh. Subsequently, other Mughal rulers Akbar and Shah Jahan constructed several beautiful buildings at this place.
The famous attractions of Agra are:
Taj Mahal is the mausoleum which was built by the Muhgal Emperor Shah Jahan in the memory of his beloved wife Mumtaz Mahal, with whom he fell in love at the first sight. It is the most famous attraction of Incredible India which summons scores of tourists from several parts of the globe. This UNESCO World Heritage Site is known for its perfect fusion of Indo-Islamic architectural pattern of decorations and constructions.
This is among the most popular Agra sightseeing which was built in the 16th century by the Mughal Emperor Akbar. Fatehpur Sikri means the City of Victory famous for its constructions and decorations pattern which showcases architectural supremacy. The luxurious complex of this fort consists of several temples, monuments, palaces, and magnificent gates.
This is the crescent-shaped fort built by the Emperor Akbar on the west bank of the river Yamuna. It is among the historic forts of India which was once the home of great Mughal Emperors like Humayun, Akbar, Jehangir, Shah Jahan and Aurangzeb. The spellbinding attractions that enthrall visitors during their visit to this fort are Diwan-i-Khas, Jahangir Palace, Khas Mahal, Sheesh Mahal and two mosques.
This is the mausoleum of the great Mughal Emperor Akbar. The architectural beauty of this grand structure reflects the religious tolerance and respect of Akbar for all religion.
It is often described as 'jewel box' or 'Baby Taj' is regarded as a draft of the Taj Mahal. This is the first tomb in India built in white marble by Nur Jahan, the wife of Jahangir, for her father Mirza Ghiyas Beg.
Mehtab Bagh
This was a beautiful garden laid 50 years before the Taj Mahal was built on the South bank of river Yamuna.
This is the mausoleum of Allama Afzal Khan Mullah of Shiraz. It is famous for its decorations of glazed tiles on the façade.
This is one of the earliest Mughal gardens built by Mughal Emperor Babar. It is said that Babar was temporarily buried here before being permanently buried at Kabul in Afghanistan.
This is a tomb in red sandstone was built in 1611 A.D. in memory of Emperor Akbar's Goan Christian wife Mariyam. The tomb is known for exceptional carvings.
Jama Masjid
This Mosque is famous for its architectural pattern which showcases the assimilation of Indo – Iranian construction pattern. It was built by Shahjahan's daughter, Jehanara Begum in memory of the famous Sheikh Salim Chishti and his grandson Islam Khan.
This is a headquarters of the Radhaswami sect famous for sprawling lawns and beautiful marble temple constructed almost 100 years before.

When to visit Agra
The season between June and September is the best time to visit Agra because of a favorable climatic condition.
Agra Cuisine
During Agra tour tourists get an opportunity to appease their palate through wide varieties national and international dishes. But sweets 'petha' and 'Gazak' and a savory 'Dalmoth' are a world renowned Agra dishes.
Agra Shopping
Agra is renowned for zari embroidery work, handicraft, leather ware, brassware, carpets and jewelry. The main shopping areas are Sadar Bazar, Kinari Bazar, Munro Road, Raja-Ki-Mandi, Sanjay Place and Near Taj Mahal Complex.
Agra Accommodation
Agra offers a wide choice of hotels, including 5 stars, super deluxe, deluxe and budgeted hotels. These hotels are known for their excellent facilities and services.
How to Reach Agra
Air: The nearest International Airport is the 'Indira Gandhi International Air Terminus' located in New Delhi. Agra is also well-connected through domestic flights to cities like Delhi, Khajuraho, Varanasi etc.
Rail: Agra is connected to all the major cities of India by Railways.
Road: Agra is well-connected with all most all the major cities of India like Mathura, Delhi, Chandigarh, Kolkata, Mussoorie, Mumbai etc.