Vrindavan Travel Guide
Virindavan is another major place of pilgrimage in the state of Uttar Pradesh located at the distance of 15 km from Mathura. This city is famous for its number of ancient and modern Hindu temples showcasing childhood activities of playfulness and lovable characteristics of Shri Krishna.
The city has more than 4000 temples among which most of them are dedicated to Lord Krishna. This most revered destination of the Hindus is thronged by thousands of Tourists from all over the globe.
Based on the facts this entire place was a tulsi grove at one time, therefore it is named 'Vrindavan'. The sacred Tulsi (Basil) plant also known as 'Virinda'. This place is also a major center for the artistic and cultural heritage.
The well-known attractions of Vrindavan are: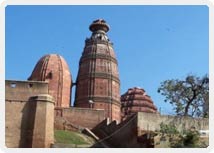 Madan Mohan Temple
This is one of the most famous and among the oldest temples in Vrindavan built by Kapur Ram Das of Multan. It is situated on the bank of Kali Ghat and dedicated the saint Chaitanya Mahaprabhu.  The original image of Lord Madan Gopal was shifted from the shrine to Karauli in Rajasthan for safe keeping during Aurangzeb's rule. Today, a replica of the image is worshipped at the temple.
Banke-Bihari Temple
It is another most popular holy shrine of Vrindavan built in 1864. Haridas Swami of the Nimbarka sampradaya a contemporary of the six Goswami established this temple. He discovered the Banke Bihari Deity at Nidhivana in the 16th century. Banke Bihari was originally worshipped at Nidhivana.
Govind Dev Temple
It is one of the most impressive temples of Vrindavan built by Raja Man Singh of Amber in 1590. It displays various paintings based on the themes of the relationship between Lord Krishna and Radha. The temple has an impressive structure of marble and silver. The ceiling of the main hall is decorated with a sculptured lotus which weighs over several tons.
Rangaji Temple
This is the largest temple in Vrindavan renowned for its eight lofty gopurams or gateways. It was built in 1851 by Seth Govind Das. This temple depicts a mixture of Rajput, South Indian and Italian style of architecture. The gopuram of this temple is known for beautiful carvings of deities.
Radha Vallabh Temple
This famous temple was established by Harivamsa Goswami who started the Radha Vallabha sect emphasizing devotion to Radharani. In this temple there is no deity of Radharani but a crown has been placed next to Krishna to signify her presence.
Jaipur Temple
This is another most popular temple of Vrindavan built by the Maharaja of Jaipur, Sawai Madhav. The temple is known for its architectural beauty of sandstone and marble. The deities worshipped here is Sri Radha-Madhava, Ananda-bihari and Hansa-gopala.
Krishna Balaram Mandir
Sri Krishna-Balaram Mandir is a Hindu Gaudiya Vaishnava temple in Vrindavan. It is one of the main ISKCON temples in India built in 1957 on the orders of Bhaktivedanta Swami Prabhupada, the founder-acharya of the International Society for Krishna Consciousness (ISKCON).
When to Visit Vrindavan
The ideal time to visit Vrindavan is during the winter season between the months of October and March because summers are generally hot and winters are chilly.
Vrindavan Cuisine
During Virndavan tour tourists can eat wide variety of gourmet cuisine famous for their unique taste. The foremost dish available here is maha-prasada in the temple room of the Krishna Balarama Temple after aratis. The mahaprasada have rice, subji, puris, sweets, pakoras and other items.
Vrindavan Shopping
Vrindavan is famous for its marble work. Tourists get an opportunity to purchase some finest marble and alabaster products. Some of these products are embedded with synthetic gems and semi-precious stones. The other popular items which can be purchased are bangles, lovely glass beads, wooden beads and stringing glass.
Vrindavan Accommodations
Hotels abound in Vrindavan which ensures best stay opportunities to the travelers. With the five-star hotels of various groups there are many luxury hotels in Vrindavan which provide outstanding services and give grand hospitality to their guests.
How to Reach Vrindavan
By Air: The nearest airport is located at 75 kilometers away at Kheria in Agra. This airport is well-connected with all the major domestic airlines.
By Rail: Virandavan does not have any railhead. The nearest railway station is in Mathura at a distance of approximately 15 km by road.
By Road: Vrindavan is well-connected to all the major cities in Uttar Pradesh and India through a network of State and National Highways. Uttar Pradesh State Road Transport Corporation plies several buses to adjoining cities.