Delhi Tourism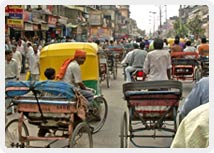 Delhi the capital of India is situated on the banks of river Yamuna. This vibrant city has witnessed a tumultuous history of an uprising and falling of many empires. It is hustling and bustling metropolitan, which represents many contrasts at once through its old-age charm and ruins of Old Delhi, strong and mighty giant buildings of New Delhi and trendy avenues of South Delhi.
The essence of Delhi lies in its charismatic ancient monuments, enthralling museums and art galleries, architectural wonders, lively performing arts scene, gastronomic eating places and bustling markets. Every political activity in India's traces its roots in Delhi which make it the political capital of India.
The city is a melting pot where tourists can see the blended beauty of diverse culture, ethics, religion, custom and beliefs. The spirit of this blend exemplifies by the harmonious balance between age-old cultural legacies with modernity. This composite beauty holds the charm that enthralls tourists who come here from across the globe.
Delhi History
Delhi is the symbol of authority. It is because of this the struggle for power starting from the time of the Mahabharatha. It is believed that the present Delhi was the site of Indraprastha, capital of the Pandavas in the Indian epic Mahabharata.
Since then Delhi has seen continuous settlement. The list of settlement includes Maurya, Chauhans, Rajputs, Turkish Sultans, Mughals and British Empire.
Delhi Attractions
Delhi is the point to emanate tourist destinations like Agra, Jaipur, Shimla, Jammu & Kashmir and many more. This city is also among the popular destinations of Golden Triangle Tour.
Delhi is a symbol of the old and the new, a blend of ancient well-preserved monuments and temples along with up market shopping malls, which are example of contemporary architectural wonder.
Some of the popular attractions of Delhi are Red Fort, Chandni Chowk, Humayuns Tomb, Parliament House, India Gate, Raj Ghat, ISKCON Temple, Jama Masjid, Qutub Minar and many more.
When to Visit Delhi
For Sightseeing, the best season to visit Delhi is between October to March. Because summers in Delhi are very hot and it is not recommended to visit it during May, June or July.
Delhi Cuisine
Cuisines from every part of India are available in Delhi. Rajasthani, Maharashtrian, Punjabi and Hyderabadi are some of the popular cuisines, which cater the taste of tourists during their Delhi Tour. Mughlai delicacies like Kababs and Biryanis are popular cuisine of Old Delhi. Besides this tourists can easily find American food outlets like McDonalds and Pizza Hut.
Delhi Shopping
Delhi is paradise for shopping freaks because of an array of shopping markets in and around Delhi. Handicrafts, jewelries, carpets, potteries, garments, stones and bamboo works are some of the popular shopping items among tourists. The three major shopping places in Delhi are the Chandni Chowk, Connaught Place and Karol Bagh.
Delhi Accommodation
Accommodation in Delhi is not a problem. Tourist can find plenty of choices based on their price and location. Delhi accommodation is categorized under 5 Star hotels, 4 Star Hotels, Three Star Hotels, Budget Hotels and Apartment accommodations.
How to Reach Delhi
By Air
Delhi has Indira Gandhi International Airport, which is connected to all the important cities of the world with almost all the major international airlines operating from Delhi. Palam is the Domestic Airport which connects Delhi to the major cities in India.
By Rail
The Indian Railway network connects Delhi to all major and minor destinations in India. The city has three major railway stations at New Delhi, Old Delhi, and Nizamuddin. Luxury trains like the Palace-on-Wheels, Fairy Queen, and Royal Orient Express can be taken from New Delhi Cantonment railway station.
By Road
Delhi is well-connected to all the major cities of India by a network of national highways and state highways.