Jaipur Tourism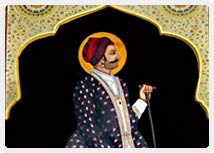 Jaipur, the princely city of Rajasthan is a fascinating destination enveloped in sheer royalty. Laced with glorious history and traditions, it is a big hit with tourists. Reflecting Rajput hospitality and royal romance, the city is painted in pink. It is the capital city of Rajasthan known for its palaces, forts, monuments, heritage hotels, cuisine and semi-precious and precious stones. This city is also a part of the famous Golden Triangle Tour of India, which is also known as Delhi, Agra and Jaipur tour on the international travel circuit.
History of Jaipur
Jaipur, one of India's most vibrant destinations, was established in 1727 by Maharaja Jai Singh II as a new capital of Kachwaha dynasty. The city stands out among pre-modern Indian cities for its remarkable standards of planning, in terms of the width and regularity of its streets. The city plan follows the grid system, with networks of streets being connected to other similar networks. It was planned in accord with the Hindu Architectural principals called Vaastu Shastra. The town of Jaipur is in fact, built in the form of a nine-part Mandala known as the 'Pithapada'. Nine signifies the nine planets of the ancient astrological zodiac.
Attractions of Jaipur
Go on a sightseeing tour in Jaipur and explore its famous attractions. The Palace area encompasses a sprawling palace complex called the Hawa Mahal, formal gardens, and a small lake. Nahargarh Fort crowns the hill in the northwest corner of the old city. Another noteworthy building is Sawai Jai Singh's observatory, Jantar Mantar. Jaipur is now one of the most important heritage cities in India, and is a must-see for tourists coming to India. Amber Fort still holds its old-world charm. The City Palace offers a glimpse into the bygone royal era with its exhibits. Jaigarh Fort boasts of the massive cannon, Jaivan which is recorded as the largest cannon in the world. Choki-Dhani, the ethnic village resort is the place to taste the flavor of Rajasthani culture. Albert Hall is the oldest museum of Rajasthan and Sisodia Rani Ka Bagh, the beautiful garden. There are several other attractions in and around Jaipur which you can explore on your Jaipur Tour.
When to visit
Jaipur is sneeringly hot during the summer from April to late August. September onwards is a great time to visit, when the weather is pleasant and more welcoming, to make your tour a more comfortable experience.
Accommodation in Jaipur
Accommodation in Jaipur is available at several rates. Several luxury hotels and deluxe hotels cater to the requirements of tourists from across the world. Else, simply try Chokhi Dhani!!
Shopping in Jaipur
Handicrafts should assume priority on your shopping list. Maharaja Sawai Jai Singh, during his time, invited artisans from across the country to come and settle in his new city. He had made special arrangements for their place of work and residence. Jauhari Bazaar is where you should go to shop for tie-and-dye items in Jaipur. Jaipur is also famous for its' blue pottery and Kundan jewellery. The villages of Sanganer and Bagru are popular for the delicate art of floral sprigs. Jaipur is also known for producing soft and warm quilts, so don't forget to pick up one. Silver jewelry, semi-precious stones and handcrafted footwear are other wonderful shopping attractions.
Cuisine of Jaipur
Food-wise, Jaipur is famous for its Dal Batti Churma, Mawa Kachori, Ghewar, Mirchi Bada, and different kinds of Chapattis. Other restaurants offer multi-cuisine options.
Fairs and festivals
The elephant festival is the most famous festivals of Jaipur. It is held on the eve of Holi in the city and has several interesting attractions like elephant polo. The festival begins with a procession of elephants, camels, horses and folk dancers. The elephants are decorated to the full with bright colors, saddle cloth and heavy jeweler. Female elephants announce their presence with anklets. The best-decorated elephant is awarded.
How to reach Jaipur
Jaipur is well connected to all major Indian cities by rail and air. Bus facilities are a viable option, if you are journeying from a nearby state like Delhi.
Jaipur Tourism has a lot to offer. Are you ready for a royal journey!