Buland Darwaza Agra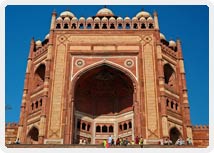 Buland Darwaza is a grand and magnificent gateway located at Fatehpur Sikri. This triumphal arched gateway was built by the Mughal Emperor Akbar after he defeated the king of Khandesh or Gujarat in 1573.
This is a gigantic gateway which dominates the stupendous structure of the walled city of Fatehpur Sikri. It is 40.84 meter high and was built on a platform 13.52 meter on the highest point of the ridge. This majestic building is a finest example of Islamic architecture whose construction is based on semi octagonal plan with two smaller triple-storied wings on either side.
Buland Darwaza built in red sandstone with richly ornamented white marble calligraphic inscriptions from the Quran on its front, pillars and chattris on its height. It has three kiosks on its top surrounded by thirteen smaller domed kiosks. The smaller turrets surrounding the gateway greatly increase its magnificence.
The magnificent construction of this gateway showcases the architectural achievement of Mughals that spellbind tourists during their visit to this place.