Rambagh Garden Agra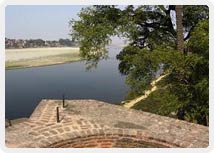 Ram Bagh garden is one of the first Mughal pleasure gardens in India laid out by Babur, the first Mughal Emperor. This beautiful piece of Mughal architecture is situated 500 meters away from the Chini ka Rauza and 3 km away from the Tomb of Itimad Ud Daulah.
The layout of this garden is based on the Persian style representing a designed in such a way as it resembles paradise (in Islam the garden is considered to be a representation of Paradise).
The design of the garden resembles the charbagh pattern with four main divisions made by paths and waterways. The beauty of this garden is heightened by a number of fountains, channels and waterways that draw water from the Yamuna River.
This garden is also known as the Bagh-i-Gul Afshan whose charm was later increased by Noor Jahan, the wife of Emperor Jahangir. She made a number of additions to the Rambagh Gardens, which have survived till date.
Based on the facts this garden is enclosed with colossal walls with corner towers crowned by pillared pavilions. The garden is divided into quarters by stone paved pathways. The garden is divided into the three levels one for flowers and vegetables, second for flower beds with fine stone paved terraces and kiosk and the third one has structures, terraces and tanks.
Timing: Open from Sunrise to Sunset.
Entrance Fee:
Citizens of India and visitors of SAARC (Bangladesh, Nepal, Bhutan, Sri Lanka, Pakistan, Maldives and Afghanistan) and BIMSTEC Countries (Bangladesh, Nepal, Bhutan, Sri Lanka, Thailand and Myanmar) - Rs. 5 per head.
Others:
US $ 2 or Indian Rs. 100/- per head. (Free entry to children up to 15 years)