Taj Mahotsav Agra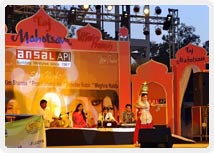 It is among the most awaited 10 days cultural festival of Agra which is celebrated from 18 to 27 February every year at Shilpgram close to the eastern gate of the Taj Mahal. The charm of spring and backdrop of the Taj Mahal epitomizes the charisma of this 10 day non-stop carnival.
The Taj Festival is culturally vibrant which bring the finest Indian crafts and cultural nuances at one place. Cultural opulence is a major drawcard of this feast that lures tourists from various parts of the globe.
The Taj festival commences with a procession inspired by Mughal splendor highlighted with caparison elephants and camels, drum beaters, master craftsmen and folk artists who recreate the glorious past of the Mughals.
Besides these the soul-stirring performances of folk artists from Sapera dance of Rajasthan, Dundelkhand, 'Nautanki' (Drama) and Lavani of Maharashtra captivates visitor's attentions.
Wood carvings from Saharanpur, the pottery of Khurja, handmade carpets of Badohi, the silk of Banaras, metalware from Moradabad and chickan-work of Lucknow are some of the world renowned handicrafts are displayed here.
During this festival tourist get an opportunity to taste some of the best and exotic foods of India. The rich and vibrant combinations of India's diversity make this carnival eclectic and enchanting.