The Octagonal Tower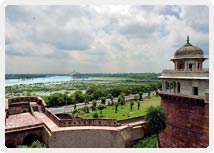 Also known as Musamman Burj is the most romantic ornamental pavilion where two most beautiful and powerful empress spent his life. Later on at the same place Emperor Shahjahan spent his last few years and died looking at the Taj Mahal.
This beautiful palace is located on the left of the Khaas Mahal. It is a beautiful octagonal tower with an open pavilion known for its elegant design and magnificent construction. This is an exquisitely carved tower provides the best views of the Taj Mahal.
This Octagonal Tower was built by the Shah Jahan for his beloved wife Mumtaj Mahal. It is a beautiful tower octagonal in shape and known for its open and spacious pavilion. The tower was strategically designed so the cooling breeze blowing from the Yamuna River flows into the tower.
This is a five-storied building surrounded by arched galleries. On the fourth story of this building are twenty-four columns and crowning it and forming the fifth story is a cupola supported on eight slender shafts.
The main attraction of this tower is its delicate marble lattices with ornamental niches for the ladies of the court to see the wide expanse of beautiful river Yamuna. In the interior, a beautifully carved and inlaid mihrab has been provided on the western wall provides a beautiful look to it. The tower was connected to the main hall by screen of marble latticework. The arcade was protected by a chhajja and above the parapet seven beautiful square chhatris were provided.