Tajmahal Travel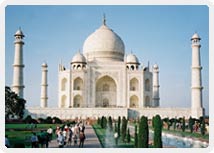 Taj Mahal is the epitome of love renowned for its immeasurable architectural beauty and inlay decoration. This undying symbol of love is perhaps India most fascinating and beautiful monument. Taj Mahal is the wonder of modern day architecture which makes it one of the Seven Wonders of the World. This UNESCO World Heritage Site is located on the bank of river Yamuna and known for its fusion of Indo-Islamic architectures, inlay decorations, latticework and calligraphic representations.
This is the symbol of love was built by Mughal Emperor Shah Jahan in memory of his beloved wife Mumtaz Mahal, with whom he fell in love at the first sight. This edifice of love is the encrypted love story in white marble which took 22 years to be built by 20,000 skilled artisans.
Architectural design of the Taj Mahal is based on the interlocking arabesque concept. In this architectural design each element stands on its own and perfectly integrates with the main structure. It uses the principles of self-replicating geometry and symmetry of architectural elements.
The four graceful, slender minarets are over 150 feet each. The entire mausoleum is decorated with intricate pietra dura inlay work of floral designs and calligraphy. It is well-complemented with precious gems like agate and jasper. The main arch ways bear Quranic inscriptions. The central domed chamber and four adjoining chambers include panels of Islamic decoration.
The most striking dome of the Taj is with a diameter of 60 feet rises 80 feet over the building. Directly under the dome lies the tomb of Mumtaz Mahal. Shah Jahan's tomb was built next to hers by his son Aurangzeb.
The Taj Mahal complex is set around a large 300 meter square charbagh or Mughal garden. The garden uses raised pathways that divide each of the four quarters of the garden into 16 sunken parterres or flowerbeds. A raised marble water tank at the center of the garden halfway between the tomb and gateway with a reflecting pool on a north-south axis reflects the image of the mausoleum.
The tomb is set against the plane across the river and it is this background that works at its magic of colors that, through their reflection the Taj changes its view.  The Taj is pinkish in the morning, milky white in the evening and golden when the moonshines.