Mumtaz Mahal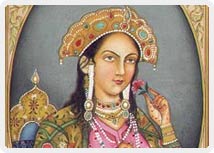 Mumtaz Mahal (1593-1631) was the dearly loved wife of the Mughal Emperor Shah Jahan. It is in whose remembrance and tribute to her beauty emperor built the grand monument Taj Mahal. Mumtaz Mahal was a Muslim Persian Princess originally known as Arjumand Banu Begum. Based on the history it is said that Arjumand Banu was a pious Muslim girl who grew up and became a woman of celebrated beauty and virtue.
Mumtaz Mahal was the daughter of a Persian nobleman Abdul Hasan Asaf Khan. He was the chief nobleman of Mughal emperor Jahangir. Mumtaz Mahal was also the sister of Noor Jehan wife of the emperor Shah Jahan.
Based on the historical facts Mumtaz Mahal sold silks and glass beads at her shop in the Meena Bazar. This is the private royal market attached to the harem meant for the women of the royal family. At this market Prince Khurram (the future Shah Jahan) met her in 1607 and falls madly in love. After his father approval, the auspicious royal wedding then took place in May 1612 with grand pomp and gaiety. At the time of marriage Mumtaz Mahal was the beautiful maiden of 19 years.
Mumtaz Mahal was renowned for her superb beauty and elegance throughout the kingdom. The beauty was so impressive that it even inspired poets to pen down verses in her admiration. She was a concerned queen and helped Emperor in his governance. She also accompanied her husband all across his dominion.
Mumtaz Mahal died in June 1631 in Burhanpur Madhya Pradesh after giving birth to her fourteenth child, Shahzadi Gauhara Begum. It is said that she obtained a promise from Shah Jahan that he will build world's world's most beautiful monument in her memory. And Shah Jahan fulfilled her wishes though by constructing one of the Seven Wonders of the World - the magnificent Taj Mahal.