Akshardham Temple Delhi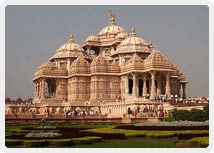 Take a drive along the Yamuna River in Delhi and you will be struck by the sight of the staggeringly grandiose structure of the Akshardham Temple. One then realizes why the Akshardham temple is integral to any Delhi tour itinerary. Sprawling over an area of 100 acres of land, the temple is truly an architectural marvel. Different architectural styles of India have been beautifully blended together in this structure. The temple also boasts of lush green gardens with fountains. Gaze anywhere in this temple and you will be mesmerized with the beauty. It resembles the Akshardham temple of Ghandhinagar in Gujarat in architectural style.
Revealing supreme mastery, the walls of the temple are adorned with carvings of flowers, animals, dancers, musicians and gods. It was constructed under the aegis of the Bochasanvasi Aksharpurushottam Swaminarayan Sanstha (BAPS) and inaugurated in 2005 by its leader Pramush Swamimaharaj, leader of the Swaminarayan sect. It took around two years to complete this temple. The construction cost of this magnificent temple amounted to a whopping 2 million.
One of the main attractions of the temple is a 141 ft high statue of Swaminarayan surrounded by Gurus of the Swaminarayan sect. An IMAX theatre and a musical fountain add glitter to the Akshardham experience. Over 20,000 statues, exquisitely carved pillars, 9 ornate domes, a magnificent Gajendra Pith (plinth of stone elephants), 20 quadrangle shikhars and floral motifs are part of this architectural wonder. The temple is entirely made of sandstone and marble and no steel was used in its construction.
It has been designed in accordance with ancient Vedic texts. It has been constructed of pink Rajasthani sandstone and Italian marble. Hall one features the worlds smallest animatronic robot in Ghanshyam Maharaj, the child version of Swaminarayan. Evening boat rides around an artificial river complete the Akshardham experience.
The Yagnapurush Kund is another feature -it is India's largest step well from which springs a musical fountain. No wonder that this temple occupies a prized place in the Guinness Book of World Records as the Worlds Largest Comprehensive Hindu temple .The temple is also complemented by the beautifully manicured lawns that are part of the Bharat Upvan or the Garden of India.
Mandovar, the ornate external wall of the temple is one of its star attractions. It is the only and largest, extravagantly carved wall with dimensions of 611 ft x 31 ft that is built in the last 800 years. Around one lakh people visit this temple in a week.
A visit to Akshardham temple offers visitors peaceful and enjoyable experience.