India Gate Delhi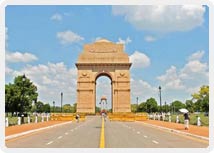 This is a War Memorial which was built in memory of the 90,000 soldiers who fought World War, I and the Afghan war. This memorial archway gate was laid by the Royal Highness, the duke of Connaught in 1921. The design plan was laid by Edwin Lutyens.
The India Gate also has a flame beneath the arch which burns day and night in order to remember the soldiers who laid their lives during the December 1971, Indo-Pakistan War. The flame is known as the 'Amar Jawan Jyoti'. Today it is customary for the President and the Prime Minister as well as visiting Guests of State to pay homage at the site on occasions of State ceremonies.
The 42 meter tall India Gate is made of red sandstone. The whole structure is engraved with a name of India soldiers who died in World War, I and the Afghan wars fighting for the British India.
The lush green lawns, Children Park and boat club around the place makes it a perfect picnic spot in Delhi. Large number of tourists as well visitors come here to spend their leisure amidst scenic environment. In the evening it is illuminated with a number of lights around that gives it a magnificent look. Standing near the base of the monument one can have a good view of the Rashtrapati Bhawan.