Raj Ghat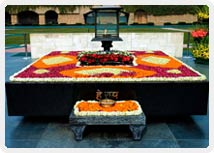 Raj Ghat is a memorial dedicated to Mahatma Gandhi, hailed as one of the greatest freedom fighters of all time. It is a simple black marble platform that marks the spot of his cremation on 31 January 1948. An eternal flame burns near the platform located on the banks of the river Yamuna in Delhi. A stone footpath surrounded by lawns leads to the enclosure that houses the memorial. Raj Ghat also houses the memorials of Jawaharlal Nehru-the first prime minister of India, Indira Gandhi, Sanjay Gandhi, Rajiv Gandhi and Lal Bahadur Shastri.
Two museums, in tribute of Gandhiji are located near by. The memorial bears the epitaph Hē Ram, (meaning 'O' Ram', but also translated to 'O God.)These were the last words uttered by Gandhi. As a sign of respect, visitors are required to remove footwear before approaching the memorial. A commemorative ceremony is held every Friday, to mark the day Gandhi died. Prayer sessions are held at the Raj Ghat on Gandhi's birth and death anniversaries. An eternal flame burns in a glass case in honor of Gandhiji.
Raj Ghat loosely translates to King Court. Several other samadhis or cremation spots of other famous leaders can be found in the vicinity of Raj Ghat on the banks of the Yamuna. It is customary for foreign dignitaries visiting India to pay homage to Gandhi at the Raj Ghat by laying wreaths on the platform. Visitors in great number come here to pay homage to Mahatama Gandhi. The memorial was designed by Vanu G. Bhuta and this national shrine was bestowed with several awards for its architectural design.