Jama Masjid Delhi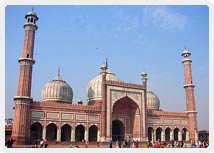 The largest mosque in India, the Jama Masjid, combines the best of Hindu and Islamic styles of architecture. Jama Masjid was designed as the main mosque of Shahjahan in 1656. The construction of this huge mosque took around 6 years. It is located in Old Delhi region of the capital. It is also known as 'Masjid-e-Jahan Numa'.
The mosque has three gateways, four towers and two minarets. It is constructed with alternate use of vertical strips of red sandstone and white marble and the architect has successfully brought out the contrast. The white marble has been used extensively in the three domes and has been alternated with stripes of black.
The structure was built on a high platform so that it would be visible from all the neighboring areas. The main prayer hall is decorated by a series of high cusped arches. Pillars have been provided at regular intervals to lend support to the dome. The hallmarks of this famous mosque are the wide staircases and arched gateways. The premises of the south minaret are 1076 sq ft wide where the people assemble for the namaaz. The cost for building the mosque was approximately Rupees 10 crores. It is a replica of the Moti Masjid at Red Fort in Agra. The walls of the mosque were constructed at a certain angle so that at the time of an earthquake, the walls do not collapse in the courtyard but outwards.
The mosque's courtyard can accommodate around twenty-five thousand worshippers. One of the famous attractions the mosque houses is an antique copy of the Quran written on deer skin.