National Zoo Delhi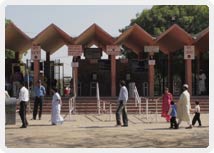 The Delhi Zoo is located near the Purana Qila on the Delhi-Mathura road. Delhi Zoo has many animals, which include the rare and exotic white tigers. This place is popular among the children. It is one of the best zoos in India renowned for its natural beauty and unique collection of flora, fauna and avifauna species.
This zoo was established in the year 1959 and popularly known as Delhi National Zoological Park. It spread over an area of 214 acres and houses more than 2,000 species of animals and birds from Africa, America, Australia and Asia.
The idea of zoo in Delhi was provided by the first Prime Minister of India Pandit Jawaharlal Nehru. The layout of this zoo was deigned by Major Weinman of Colombo and Carl Hagenbeck of West Germany. It was opened for public in 1959.
Zoo Attractions
This zoo is among the known attractions of Delhi visited by scores of tourists as well visitors throughout the year. Some of the well-known attractions of the zoo are Axis Deer, Chimpanzee, Wild Buffalo, Hippopotamus, Spider Monkey, Zebras, Giraffe and several species of birds and water animals. The underground Reptile Home Complex is famous for its rich and wide varieties of snakes like King Cobra, Python and more.
Besides these the zoo also houses more than 200 varieties of trees. This zoo also has an early 17th century Kos Minar, which was built by Mughal emperor Jehangir. Through this red sandstone gate visitor can get a panoramic view of the zoo.
The best way to explore Delhi Zoo is on foot. Though a battery operated vehicles are also available at nominal charges.