Qutub Minar Delhi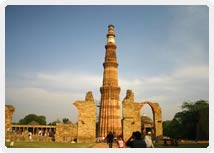 This impressive 13th century structure, made of red sandstone material is an architectural marvel. The first storey was constructed by Qutubu-ud-din Aibak, the first Muslim ruler of Delhi, for calls for prayer after which 3 more stories were added by Iltutmish. The Qutub Minar is 72.5 meters high and is the highest stone tower in India. Its surface is covered with verses from the Quran. The other legend goes that this magnificent structure was built to commemorate the inception of the Muslim rule in India. It is the world's tallest brick minaret.
Intricate calligraphy work adorns the adjacent structures. Each storey has a projecting balcony. The complex presents a series of other important monuments- the gateway built in 1310, the Alai Darwaza, Quwwat-ul-Islam Mosque, one of the oldest existing mosques in India, the tombs of Altamish, Alauddin Khalji and Imam Zamin; the 2000 year old 7m high Iron Pillar- the Alai Minar; another tower 27m high, the Madrasa or School.
It is said that the mosque was built by plundering the Hindu temples which once stood at the place where the mosque stands today. The remains of the temples such as the carved stone slabs and other materials were used in the construction of the mosque. So no wonder this Muslim mosque reflects typical Hindu ornamentation.
Islamic decorations characterize the monuments at regular intervals. The minar has survived a series of lightening bolts and earthquakes during the past centuries, perhaps this is why it tilts slightly. The fourth and the fifth stories are made of sandstone and marble. A chattri at the top of the tower was taken off as it did not go with the rest of the architectural style. It is among the finest Islamic structures ever raised in India. Next to the Qutub Minar is a smaller tower called the Ashoka tower and it is believed that if you can hold your hands around the pillar with your back to it and make a wish, it will come true. The inscription on the pillar reads that it was erected as a flagstaff in respect of the Hindu God, Vishnu, and in honor of the Gupta king Chandragupta II.
Visit Qutub Minar and you are bound to get mesmerized with this fabulous structure which is a World Heritage Site.