Lotus Temple Delhi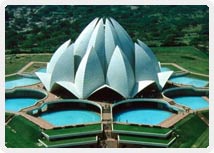 Lotus Temple is a beautiful Lotus-shaped structure which is a must-see attraction on the itineraries of domestic and international tourists. Reflecting the spiritual unity of all humankind, it boasts of sheer architectural beauty. Anyone from any religious background can come here. It was built with a spirit that people of all religions can worship God in this temple without any denominational restrictions.
The Lotus temple otherwise referred to as the Bahai Mashrqul 'adhkar is among the seven major Bahai houses of worship in the world. It are also reputed to be among the most visited edifices in India. The temple derives its shape from the ancient symbol of the half-open lotus that signifies beauty and simplicity. The structure has been hailed as an engineering marvel and won many awards at the international level. The temple is surrounded by lush green gardens fitted with fountains.
The Lotus temple is well-known as it was the focus of media attention, both international and national even before its completion. The prayer hall lends serenity to the lotus temple experience. Idols are absent in this marble construction. It best represents the Bahai faith-an independent religion that is all-embracing and humanitarian. Its construction is a landmark in Bahai history. It has drawn over 50 million visitors from across the world.
The structure of the House is composed of nine petals. The first two ranks curve inward, embracing the inner dome; the third layer curves outward to form canopies over the nine entrances. The petals, made of white concrete, are clad in white marble panels, bearing in mind geometrical principles. Nine reflecting pools surround the building on the outside, their form suggesting the green leaves of the lotus flower. The geometry of the design reveals no straight lines and erecting the framework presented numerous challenges. It covers an expanse of 26 acres of land and is close to the ancient Kalakaji temple, it stands as an important architectural symbol of the cityscape.