Chandni Chowk Tourism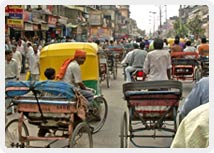 Nestled comfortably in Old Delhi is a bustling shopping square called Chandni Chowk. It is a prominent attraction on the itineraries of the tourists who come to Delhi from far and wide. Chandni Chowk is also known as the moonlit square, the bazaar has several galis (lanes). Each of these lanes represents a specialty of this market, for example the parathawali gali is well-known for its parathas. Similarly there is the jewelry lane that has a variety of ethnic jewelry on display with earrings and bangles coming in a myriad of designs. The textile lane is another addition to the shopping experience. You can get a variety of shopping items at bargained rates in this market. It is one of the oldest markets of Old Delhi.
Chandni Chowk has the distinction of being perhaps the only trade market that also houses an equally amazing number of places of worship of all the prominent Indian religions such as Hinduism, Islam, Sikhism, Christianity and Jainism. The eating joints in Chandni Chowk are an absolute delight for lovers of chaat, bhelpuri and golgappas come at their best. Walk along Churi Bazaar and one soon realizes how the largest trading centre in North India came to be.
Chandni Chowk is well known for its confectioners/restaurants, each offering its own specialty.
The Ghantewala Halwai, established in 1790
Natraj's Dahi Bhalle, established in 1940
Kanwarji Bhagirathmal Dalbijiwallah established in mid-19th century
Chaatwallah established in 1923, famous for fruit chaat
Bikaner Sweet Shop famous for rasmalai
Gianiji ka Falooda famous for Rabri Falooda, established around 1947
Paranthe wali Gali with paratha shops from 1875-1886.
Meghraj and Sons, since 1950s
Chainaram established in 1948