Red Fort Delhi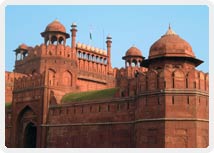 This majestic architectural marvel in red reflects an important phase of Indian history. Designated as a World Heritage Site, this fort was built in 1639 by the famous Mughal Emperor Shah Jahan in the walled city of Old Delhi (in present day Delhi). Today it is one of the most important tourist attractions of Delhi. Its construction took around 9 years. Until 1857 it served as the capital of the Mughals. Later it came under the rule of the British Indian government and served as a military camp until India got its independence.
Originally the fort was named as 'Qila-e-Mubarak' (the blessed fort) as it was the abode of the royal family. The fort can be visited on all days, except on Monday from 10 A.M to 4 P.M. Come 15 August and the Red Fort becomes the centre of attention. The Prime Minister prepares to address the nation against the backdrop of the historic Red Fort.
The Red Fort was designated as the palace for Shah Jahan' new capital Shahjhanabad. It is an imposing red sandstone construction of eight sides. The key features of the palace are the zenanas( women's quarters:), the Mumtaz Mahal (now a museum), and the larger, lavish Rang Mahal, which is famous for its decorated ceiling and marble pool. Yet another feature is the Khas Mahal, true to its name, contains the imperial chambers. These include a row of suites, prayer rooms, and the Mussaman Burj, a tower built against the fortress walls, from which the emperor would show himself to the people in a daily ceremony.
The next pavilion is the famous Diwan-e-Khas, the lavishly decorated hall of private audience, primarily for ministerial and court gatherings. The art work is floral pietra dura patterns on the columns of the structures, with precious stones and gilding. Another pavilion contains the hammam, or baths, in the Turkish style. Look westwards and one finds a pretty little structure that is pleasing to the eye-the Moti Masjid, the Pearl Mosque. This was a later addition, built in 1659 as a private mosque for Aurangzeb. It is a small, three-domed mosque in carved white marble. The Hayat Bakhsh Bagh, is a large 'Life-Bestowing Garden', which is watered by two channels of water.