Humayuns Tomb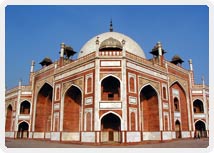 This is the mausoleum of Humayun, second Mughal Emperor of India. It was built by his widow Biga Begum (Hajji Begum) in 1569-70, 14 years after his death. This was the first garden-tomb on the Indian subcontinent designed by the Persian architect Mirak Mirza Ghiyath.
This tomb is also the first Indian architecture in which red sandstone used at a large-scale. It was declared as an UNESCO World Heritage Site in 1993 because of its historical importance and architectural beauty.  The mausoleum also houses the graves of Hamida Begum (Akbar's mother), Dara Shikoh (Shah Jahan's son) and Bahadur Shah II, the last Mughal Emperor.
The tomb is located in the middle of a geometrically arranged garden based on the concept of char baah (four-fold) style with pools joined by channels. The designed of this mausoleum is based on an Islamic idea that the paradise or jannat is a place set somewhere in the middle of the garden with water flowing through it.
The tomb sits at the center of a plinth about 7 meters high. The central dome reaches 140 feet from the ground. The dome is design in a double-layered with the outer layer with white marble and ornate interior design. The rest of the tomb is decorated in red sandstone with white marble decoration.
Visiting Time
Open from sunrise to sunset
Entrance Fee
Citizens of India and visitors of SAARC (Bangladesh, Nepal, Bhutan, Sri Lanka, Pakistan, Maldives and Afghanistan) and BIMSTEC Countries (Bangladesh, Nepal, Bhutan, Sri Lanka, Thailand and Myanmar) - Rs. 10 per head.
Others: US $ 5 or Indian Rs. 250/- per head
Free entry for children up to 15 years