National Museum New Delhi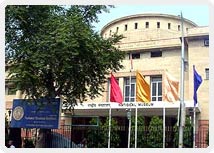 The National Museum is the largest museum in India renowned across the globe for its exotic collections of over 2, 00,000 works of exquisite art both of Indian and Foreign origin. It is situated on the corner of Janpath and Maulana Azad Road.
The exotic and varied collections of artifacts provide a deep insight of Indian cultural heritage. This three storied museum offer splendid and priceless pieces of Indian art and sculpture. All the displayed articles are arranged in galleries according to the period to which they belong.
The unmatched blend of the past with the present makes it one of the popular attractions of Delhi Tourism, which is visited by a large number of visitors around the year. The extraordinary collections showcase the entire span of Indian civilizations from prehistoric times.
The museum is home to several themes based galleries such as Harappan civilization, South Indian School of paintings, Buddhist Art and Architecture, Indian miniature paintings and the evolution of Indian script and coinage systems. The Museum provides a comprehensive picture of Indian cultural evolution and its prosperity.
The Buddha Gallery showcases a series of relics from the Buddha age. The Harappan age section offers valuable insights into the ancient Indus Valley civilization with a collection of seals, pottery remains, jewelry, terracotta figurines and weights and measures.
Visiting Time
10.00 A.M. to 5.00 P.M. (Monday Closed)
Entry Fee
Indian Citizens - Rs. 10 each
Other - Rs. 300 each (inclusive of Audio Tour Charges)
Students - Rs. 1 each
Audio Tour available in English, French, German, Japenese and Hindi languages.
Audio Tour Charges
For Indian Citizens
English
Rs. - 150 each
Rs. 400 for 2 adults and 2 Children below 12 years Family Rate
Hindi
Rs. - 100 each
Rs. 200 for 2 adults and 2 Children below 12 years Family Rate.
Cameras (still)
Indian Citizens - Rs. 20 per Camera.
Others - Rs. 300 per Camera.