Albert Hall Jaipur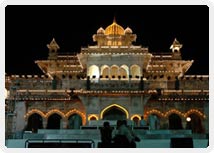 From the middle of the Ram Nivas garden springs an exquisite structure called the Albert Hall, which was designed by Sir Swinton Jacob, a British architect. He was also instrumental in the construction of several other palaces in Rajasthan. It brings together the styles of English and North Indian architecture. It is also known as the pride of New Jaipur. It was built in the year 1886 AD to celebrate the visit of the King Edward VII to Jaipur. The galleries on the ground floor of the museum were revamped in the year 1959.  Also known as the Central Museum, it is the oldest museum of Rajasthan.
Albert Hall is a well maintained museum housing a rich collection of paintings, carpets, ivory, stone and metal sculptures, arms and weapons, wood crafts, brass wares, natural stones, ivory goods and an impressive display of crystal works. You may also choose to add a dash of wildlife to the experience for just opposite the Albert Hall is one of the oldest zoos in the country, harboring different species of birds and animals. Another tourist attraction near the Albert Hall is the Ravindra Rang theatre with a modern art gallery and a performing arts theatre. This section of the day promises to be an art lover's delight.
Inside the museum you get a rare opportunity to see the beautiful and unique dresses and jewelry belonging to the Rajputs of the bygone era and tribes like Mina and Bhils. Also visit the Mehndi (Henna) gallery inside the museum which showcases amazing body art and Rajasthani motifs and designs. It is really a treat to the eyes.
An Egyptian Mummy belonging to the Ptolemaic Epoch and an arresting Persian Garden Carpet are the star attractions of the museum. The museum also houses a special section for children where a variety of dolls and toys collected from different parts of the world are on display.