Samode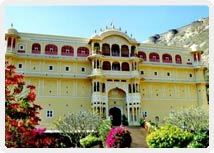 Nestled comfortably in the Northern Aravallis is the Samode village known for its beautiful printed cloth, glass bangles, miniature paper paintings, havelis, fort, and palace. It is a perfect place for those who are inclined towards history, arts and architecture. This wonderful destination is located only 42 km from Jaipur.
Among all the attractions of Samode, Samode Palace is the most famous one. It is an extravagant structure and the seat of all key state functions. Its mind-blowing architecture never fails to capture the hearts of the visitors. The grand Durbar Hall and the Sheesh Mahal of the palace deserve special mention. This majestic palace was built by the Rawals of Samode. They didn't belong to the royal family but were the wealthy noblemen known for their faithfulness towards the royal family.
Today it is one of the best Palace Hotels in the country, combining the splendor of the bygone days with modern amenities. The Samode Bagh is a sylvan retreat modeled on the geometric style of the Mughal garden. It was built by Rawal Sheo Singh, a scion of the Nathawat clan of Rajputs. Members of the royal family would come and spend moments of privacy and pleasure in the airy pavilions surrounded by fountains and water channels.
This 400-year-old place has now been beautifully restored and thrown open to visitors. Step into the elegant Durbar Tent for a taste of desert hospitality. Traditional Rajasthani music, song and dance seem to fill up the spaces between fruit trees, grape vines and shrubs of jasmine, oleander and hibiscus that grow in the surrounding lawns.
Samode Fort is another must-visit attraction of this historic village. The fort is located above the Palace atop a hill. It reflects royalty, luxury and elegance in plenty. However, over the years the fort has deteriorated a bit. It also offers spectacular view of the surroundings.
Adventure freaks may explore the countryside by camel safari. You will surely feel good to see colorful culture, villages and smiling people of Samode. Adorn your evenings with lively dance and music performances by the local artists at Samode.