Hawa Mahal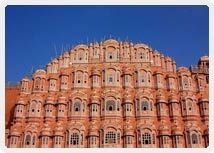 Hawa Mahal or the Palace of Winds is a major attraction of Jaipur. Built in red and pink sandstone, this palace is known for its mind-blowing architecture. It was built by Maharaja Sawai Pratap Singh in 1799. It is a five storied structure that takes the form of a pyramid. It is set with over 900 small windows decorated with lattice work. The pink sandstone windows commonly known as "Jharokhas" have been pieced together beautifully to resemble a giant honeycomb. It subscribes to Mughal architectural patterns.
The Palace has been so designed that the constant air circulation through the windows keeps the Palace cool. The small screened balconies and arched roofs with hanging cornices (an ornamental molding at the top of the walls of a room, between the walls and ceiling) add to the beauty of the Palace. History tells us that the Hawa Mahal was built for the women of the Royal Families, who were regulated by fairly strict purdah conventions. The small windows and screened balconies enabled the women to watch processions along the streets. They would sit behind these windows to enjoy the street processions.
Early morning is considered as the best time to visit the Palace, when it stands resplendent in the golden light of the Sun. Visit the Palace and you will soon realize why it is indispensable to the Jaipur itinerary. The wind keeps dancing across its windows keeping it well ventilated. This airy palace of Jaipur is maintained by the State Archaeological Department.