Amber Fort Jaipur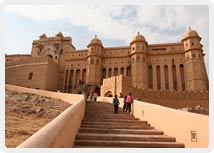 Among the major tourist attractions is the Amber Fort, around eleven kilometers from Jaipur. This historic fort is located at the bottom of the Cheel ka Teela. The elephant ride takes you to the majestic Amber fort; also know as the Amer Fort. The construction of the Fort began in 1592 and was started by Man Singh I, and later finished by his descendant Jai Singh.
The exterior of the Fort is strikingly different from its interiors. While the external structure conveys an imposing feel, the interiors are influenced by both Hindu and Muslim styles of decor. The walls bear paintings depicting various hunting scenes. Besides, the intricate mirror work that lends a distinct charm to the halls. The fort is a white marble and red sandstone construction. It is well-complemented by the Maota Lake in the foreground. Tourists may either approach the fort by road or take an elephant ride. A trip to Jaipur is incomplete without a trip to the Amber Fort. The maze (complex system of paths or tunnels in which it is easy to get lost) of the fort is its interesting attraction.
Some of the star attractions of Amber Fort are:
Sheesh Mahal: It is a mesmerizing apartment studded with mirrors.
Diwan-e-khas or the Hall of Private Audience: It is adorned with arresting colored glass work.
Diwan-e-aam or the Hall of Public Audience: Its beautiful pillars with carvings are its main attraction.
Shila Mata Temple: Its silver gates are notable.
Jai Mandir: The mirror work on its ceiling is breathtaking. When seen in dark the mirror studded ceiling looks like a star studded sky.
Ganesh Pol: Its walls are decorated with beautiful Rajput paintings.