Galta Temple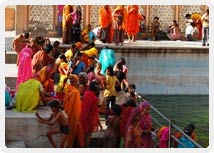 Galta is a series of 250-year-old temples built around a sacred water tank. Galta owes its sacred status in large measure to a freshwater spring that seeps constantly through the rocks in the otherwise dry valley, keeping two tanks full of fresh water. Hordes of monkeys are seen playing around the tank. The temples themselves are colorfully painted, with scenes from religious festivals lending to the ambience.
Ten minutes from the temple is the Dhammathali Vipassana Centre, one of the fifty centers across the world set up to promote the practice of Vipassana meditation. Beyond the Vipassana centre, the road passes the Sisodia Rani-ka-Bagh east of Jaipur. Landscaped with fountains, these gardens are part of a palace complex built in the eighteenth century by Jai Singh II for the Udaipur princess he married to secure relations with his neighboring Sisodia Rajputs. Temples at the back of the gardens, coated with the sherbet-yellow wash that covers the whole compound - the original color of the Pink City - and enhanced with naturalistic designs, are open midday and early evening for worship.
The natural water spring in the temple complex is one of the main attractions of the temple. To take a holy dip in the spring is considered auspicious, especially on the occasion of Makar Sankranti.
The day of Makar Sankranti marks the transition of the Sun into Makara rashi on its celestial path. It is the time when Sun god starts its ascendancy and enters into the Northern Hemisphere. It signifies the message of Sun God to human beings that we must carve out darkness from our lives and move towards light. There is a Sun temple inside the complex where devotes worship Sun God during the festival.