Chokhi Dhani-The Ethnic Village Resort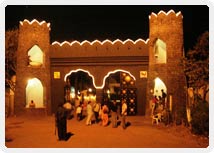 Rajasthani culture comes alive to represent its ethnic best in Chokhi Dhani. Chokhi Dhani is a village resort that provides modern amenities against a rustic backdrop, lending the restaurant a unique ambience. It reflects the rich cultural heritage of Rajasthan which attracts many a tourists to this place. It offers the flavors and colors of ethnic village life of Rajasthan. This wonderful village resort offers facilities both for accommodation and dining.
Sprawling over an area of 10 acres, Choki Dhani is peppered with platforms and machaans which serve as the stage for the local artists to perform dance and music.
Every evening at this resort is like a colorful fair celebrating the rich cultural heritage of Rajasthan. Live music and dance performances crown the evenings of the tourists who come here from far and wide. Join the performers and let yourself loose in the dance and music of this royal land of raja-maharajas.
Ready to get enchanted with the attractions of Chokhi Dhani such as the puppet show, the fortune teller parrot, the magic show and acrobatics on a bamboo without the protection of a safety net beneath. The village also boasts of an artificial forest with roaring sound of animals and tribes. You can also enjoy horse riding, elephant riding and boating here.
The traditional photo studio inside the Chokhi Dhani Village gives you an opportunity to get photographed in a traditional style. There is also a national art and craft market and museum in this village.
Accommodation -wise, Chokhi Dhani consists of 31 Village Huts and 34 Executive Huts. The huts are spacious and are located comfortably away from the hustle and bustle of city life, the main motive being to escape the pollution and and relax. The resort is also home to the Shekhawati Haveli which is a collection of royal suites.
Dining: The best part about Chokhi Dhani is Bindola, its' in-house multi-cuisine restaurant. The Sangri Restaurant serves Rajasthani dishes and Bindola Restaurant serves Indian, Continental and Chinese cuisine. There is variety so make your pick from among the several cuisines. Lovers of alcohol, head to the Chandni Bar to lend a finishing touch to the experience. The Chandi Mahal Bar with its ceiling of 1, 00,000 mirrors and gilt coated furniture is the perfect place to enjoy the choicest of wines. Chokhi Dhani in Rajasthan is a must-visit.