Museums and Galleries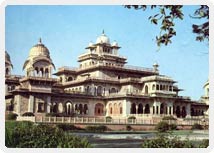 Rajasthan is a land of rich cultural heritage which can be best seen in its museums and galleries. Jaipur the princely city of Rajasthan has several wonderful museums and galleries where you can treat your senses with rare and mesmerizing artifacts belonging to the raja-maharajas of the bygone era. The several museums in Jaipur take you through its historical past. Treat your eyes with the antiques and artifacts in the museums of Jaipur and get transported to the era of Raj Culture.
The museums and galleries of Jaipur display miniature paintings, excavations, jewelry, sculptures, ancient manuscripts, royal dresses of the kings and queens, metal work, weapons and arms and elephant saddles. The architectural beauty of the museums is also attractive.
Situated in the midst of Ramnivas Gardens is the Central Museum, an imposing stone structure built in the Indo-Persian style. It is a notable museum of Jaipur. In fact, it is the oldest museum of Rajasthan which was established in 1886 AD to celebrate the visit of the King Edward VII to Jaipur. The museum displays a wide range of metal objects, wood crafts, carpets, stone and metal sculptures, arms and weapons, natural stones, ivory goods etc. Also on view are a large collection of miniatures from the Bundi, Kota, Kishangarh, Udaipur and Jaipur schools of paintings.
The City Palace Museum is a valuable storehouse of artifacts and the importance of the collection stems from the fact that most of the acquisitions were dated as and when they came into royal possession. The textile section of the Museum, Mughal & Persian carpets and medieval Arms & Armory are other interests. Cars, chariots, buggies, Elephant, Horse and Camel Carts used by the royal families are a part of the showcase. All of them had state and ceremonial functions and continue to be brought out on ceremonial and religious occasions.
Some of the other museums in the city are Dolls Museum, Government Central Museum, Hawa Mahal Museum, Sawai Man Singh Museum, Museum of Indology, B M Birla Planetarium, Modern Art Gallery and Jawahar Kala Kendra.