Jaigarh Fort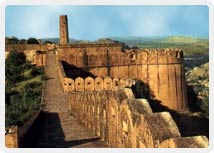 Jaigarh Fort is famous for its world's largest canon named Jaivan. Tourists from far and wide come here especially to see the canon. Located on the Cheel ka Teela or Hill of Eagles, the fort is one of the famous attractions of Jaipur. Jaigarh Fort is also known as the 'Victory Fort' and is at a distance of 15kms from Jaipur. This Fort is on top of the hill, while Amber Fort is at the bottom. Many people regard the two as one complex however both of them are well connected with well guarded passages. Jaigarh Fort was constructed for the security of Jaipur and Amber. Due to this fact, one may not find this fort as artistic as other forts and palaces, but it certainly has its own charm.
The Fort has many structures of medieval India, which are worth exploring. It has several palaces, granary, well-planned cannon foundry, several temples and a tall tower. Jaigarh Fort used to serve as the center of artillery production for the Rajputs. The fort is equipped with water channels, which were a part of a rainwater harvesting system. The Fort also has 3 underground tanks, the largest with a capacity of 60, 00,000 gallons. A nearby museum adds to its history. The museum has a remarkable collection of coins and puppets.
It is said that the fort was also the treasure house of Maharaja Man Singh I. It once houses all the treasure (gold, silver, gems) won by the Maharaja and his successors during the wars. It is said that the treasure was used to establish the cities like Amber and Jaipur. The local people say that some part of the treasure is still buried somewhere inside the fort. In the ancient Hindu Scriptures it is written that "a fort is the strength of a king" and by seeing this fort one can say that it was built by the Maharaja keeping in mind the above quote.