City Palace Complex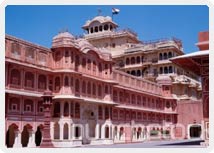 Adjacent to the renowned Hawa Mahal is another major landmark of the Jaipur city, the City Palace complex that was built by Maharaja Sawai Jai Singh in the 18th century. The Palace is a blend of Rajasthani and Mughal Architecture. The City Palace complex is an expansive area, which is divided into a series of gardens, courtyards and buildings. Initially, the outer compound was constructed by Raja Sawai Jai Singh. The additional grand buildings were constructed later by the succeeding rulers. The complex encloses several buildings like Chandra Mahal, Mubarak Mahal, Mukut Mahal, Maharani's Palace, Shri Govind Dev Temple and the City Palace Museum.
The Mubarak Mahal greets you as you enter the premises. Built by Sawai Madho Singh to entertain his guests, it has now been converted into a costume gallery, which displays royal apparel of the past. City Palace also houses the world's largest silver vessel, an art gallery showcasing painted ceilings and rare ancient handwritten original manuscripts of Hindu scriptures which will transport you to a different world. Chandra Mahal is the highpoint of the tour to City Palace. It has seven stories, each story designated by a different name. The topmost story is known as Mukut Mahal. The Palace is well-embellished with delicate paintings, mirror work on the walls and floral decorations, making it imperative to the itinerary.
Diwan-E-Khas or the Hall for Private Audience and Diwan-E-Aam are the other wonderful attractions of the palace. Also visit the Maharani Palace museum where weapons belonging to the kings are on display. It was once the royal apartment of the queens.  Shukh Niwas or the Hall of Restaurant was once the resting place of the erstwhile kings. It was the place for them to eat rest and enjoy.  Decorated with Mughal paintings, this apartment has a dining table fashioned out of glass and silver in European style. Shobha Niwas or the Hall of Beauty is a royal apartment studded with mirrors.