Jantar Mantar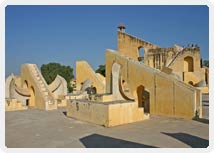 Science buffs are in for an absolute treat with their visit to Jantar Mantar, a testimony to the scientific expertise of the time. Jaipur is also home to Jantar Mantar, the largest stone observatory in the World. It consists of fixed astronomical instruments which were used for astronomical observations with naked eye. It is among the five astronomical observatories built by Maharaja Jai Singh, the founder of Jaipur. The other four Jantar Mantars are in Delhi, Ujjain, Mathura and Varanasi. All these wonderful observatories were built in the 18th century. The Jantar Mantar at Jaipur has recently been recognized as a World Heritage Site which makes it all the more popular attraction of Jaipur. Jantar Mantar, Jaipur was carefully renovated in 1901 and was declared a national monument in 1948.
This astonishing stone observatory reflects the noteworthy attempts of the scientists of yesteryears, who were interested in astronomy and the behavior of celestial bodies. This observatory provides accurate information, which can be compared with today's modern instruments undeniably. This is a highpoint of the observatory. The observatory has fourteen statistical instruments for measuring time, predicting eclipses and to forecast other astronomical events.
Among the several instruments, the Sundial, which is remarkably accurate, is the most famous. Dakshina Yantra is another notable instrument used for observing the position and movement of the heavenly bodies. Unnsyhsmsa yantra was designed to measure the altitudes of the heavenly bodies and the Chakra yantra was for measuring the angle of an object from the equator. Visit this monument and you will be surprised to know about the instruments and their purposes.