Elephant Safari in Jaipur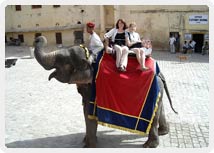 Although camel is considered the prized attraction of the desert of Rajasthan but elephant has its own unique place in this destination. Symbolizing royalty, elephants have been used as a means of transport since the times of raja-maharajas in Rajasthan. Elephant ride in Jaipur is an activity full of fun, entertainment and pleasure. It also gives you the taste of royalty. The majesty of this wonderful creature is simply unparalleled.
Eleven kilometers from Jaipur is the historic Amber Fort that springs from the hills .The Amber fort is standing example of Mughal and Rajput architectural style of architecture and bears testimony to the prowess of the mighty Kachawaha dynasty. An elephant ride takes you to the Amber Fort. One elephant can accommodate 3-4 travelers. Enjoy the elephant ride and make sure you are carrying caps to beat the harsh Rajasthan summers, in case you are traveling during summers. It is the best way of reaching the wonderful fort. For sure you will remember the experience for long. The elephant ride to the fort is in itself an attraction of the fort.
To give a flavor of royalty to tourists several elephants camps are organized in Rajasthan. Jaipur Elephant Camp is one of the famous camps organized in the jungles of Amber.