Nahargarh Fort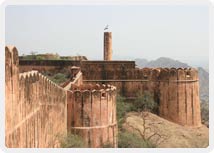 Nahargarh Fort is another mesmerizing fort of Jaipur which was built for defense purposes. It is ideally located on the rugged ridge of Aravali Hills. The term Nahargarh means 'the abode of tigers', hence it is also known as the Tiger Fort. The Nahargarh Fort was built under the supervision of Maharaja Jai Singh in the year 1734. Later more structures were added to it by Sawai Ram Singh II and Sawai Madho Singh II in the 19th century.
The fort served as a rest retreat for royal guests and dignitaries who were invited to join the maharaja for duck shoots. The Nahargarh Fort also doubled up as a retreat for the ladies of the royal household. In fact the Zenana-the women's quarters at the Nahargarh Fort were built specifically for them. The Madhavendra Bhawan zenana was specially built by Maharaja Sawai Jai Singhji.
The fort however has a story behind it. The spirit of Nahar Singh persistently haunted the construction site and interfered with the worker's work. Prayers were chanted and rituals performed to appease the spirit. The spirit of the dead prince made an appearance and declared that the fort would have to be named after him. Nahargarh fort thus came to be.
There are nine apartments in the fort which were especially built for the queens of the Maharaja. The apartments still have the frescoes reflecting the old world charm. The fort offers a picturesque view of the city. It is a must visit destination on your Jaipur tour.