Royal Gaitor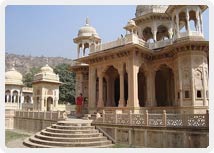 Ever heard of a crematorium as a tourist attraction? Gaitor was designated as the royal cremation grounds of the mighty Kachhawa dynasty. It was constructed during the reign of Sawai Jai Singh II, in white marble. The crematorium is located in the middle of yellow sandstone hills.
Gaitor is located on the Jaipur-Amber road which is around 15 from Jaipur. Gaitor word is believed to be the mispronounced form of a Hindi phrase 'Gaye ka Thor' which means 'resting place of the departed souls'.
Most of the Chattris or cenotaphs at Gaitor take the form of open pavilions with ornate domes supported by delicately sculpted pillars. The cenotaphs reflect typical Rajput style of architecture. The décor and extravagance of a particular Chattri reflects the stature and prowess of a particular king. The most graceful and beautiful Chattri at Gaitor is that of Maharaja Jai Singh with 20 carved pillars. No wonder you would be amazed to see such a beautiful cenotaph. Architectural extravagance does define the royal crematorium. It seems that the rulers made sure even the cemeteries looked interesting.
The cenotaphs at Gaitore are a perfect combination of Hindu and Islamic architecture. The carvings and design of each cenotaph reflects the taste of the king for whom it was built. The cenotaphs built in honor of the queens of Jaipur are located in Maharani Ki Chhatri complex near Ramgarh road crossing.
On your Jaipur tour you must visit Gaitore to see the beauty of Rajasthani art and architecture in a different style. You don't have to be a history buff to like this place. The architectural beauty and craftsmanship are enough to attract you to this place.